General election 2019: Bridgend falls to Tories after 32 years.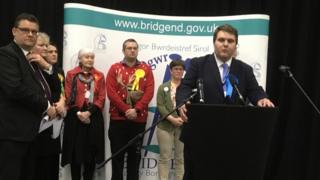 Labour has suffered a bitter blow in south Wales, losing Bridgend to the Conservatives after holding the seat for 32 years.
Jamie Wallis took the seat with a 1,157 majority over Madeleine Moon, who has held the seat since 2005.
Bridgend was created in 1983, when it went blue under Margaret Thatcher's Conservative leadership.
But it switched to Labour in 1987, where it has remained ever since until Mr Wallis's victory with 18,193 votes.
Ms Moon said: "Bridgend now has an MP with no political experience, other than three years on a parish council.
"We're in a huge mess in Bridgend."
The Conservative Party also took the Vale of Glamorgan, despite its candidate Alun Cairns resigning as Secretary of State for Wales during the election campaign over claims he knew about a former aide's role in the "sabotage" of a rape trial.
Mr Cairns took the seat with 27,305 an increase in his majority, seeing off a strong challenge from Labour's Belinda Loveluck-Edwards on 23,734.
A Remain alliance pact in the seat meant some parties stood aside.
Wales' first result had gone to Labour in Caerphilly, with Wayne David holding the seat he has represented since 2001 with 18,018 votes.
Over in Rhondda, Chris Bryant, another Labour veteran since 2001, held with a reduced majority of 16,115, and a 7.7% swing to the Conservatives.
Mr Bryant had earlier called the night the worst for Labour since 1935, calling it a "catastrophe" as the exit poll predicted a comfortable Conservative majority in Westminster.
In Cynon Valley, where 82-year old Ann Clwyd had stood down after representing the seat for 35 years, her successor for Labour Beth Winter held the seat with 15,533, a majority of 8,822 over the Conservatives' Pauline Church.
Pontypridd's sitting MP Owen Smith also stood down at this election. His replacement for Labour, Alex Davies-Jones held the seat for the party with 17,381, a drop in share of 10.9%.
Labour held Merthyr Tydfil and Rhymney with Gerald Jones on 16,913 and Torfaen by Nick Thomas-Symonds on 15,546.
Chris Elmore in Ogmore took 17,602 votes to give him a reduced share and majority of 7,805 over the Conservatives' Sadie Vidal.
In Newport, where the Conservatives had targeted the west constituency, Labour held on with a majority of just 902, with Ruth Jones taking the seat on 18,977 over the Tory's Matthew Evans.
Meanwhile in Newport East, Jessica Morden held off the challenge from the Conservatives' Mark Brown to give her a majority of 1,992 with 16,125.
In Cardiff North, another Tory target, the Conservatives had admitted things were not going their way some time before the declaration.
Labour incumbent Anna McMorrin held the seat with almost no change in her vote share, taking 26,064 votes to give her a 6,982 majority.
She later blamed Labour leader Jeremy Corbyn for the party's defeat nationally and said the party needed to rebuild without him in charge.
"He's shown tonight that he's lost good, decent, hardworking members of Parliament up and down the country, who are needed for this country to rebuild and to ensure that we're protected and represented and that we create a fairer society," she said.
"That can't happen now, and I think the only person who can take responsibility is is our leader."
Cardiff Central and Cardiff South and Penarth both had solid results for Labour.
Jo Stephens held a comfortable 17,179 majority with 25,605 votes, just down 2.8% on 2017, while Stephen Doughty saw a similar change, down just 2.2% with a majority of 12,737 on 27,382 votes.
Cardiff West was the last seat to declare, and like the other capital seats stayed with Labour, with Kevin Brennan taking 23,908 votes over Carolyn Webster's 12,922 for the Tories.
Blaenau Gwent went to Labour's Nick Smith on 14,862 votes, but the Brexit Party made a significant showing on 6,215, coming second in the constituency.
In former Labour leader Neil Kinnock's seat of Islwyn, it would have taken a seismic shift for Labour to be ousted, and 2017's victor Chris Evans duly took the seat for the party with 15,356 votes.
However his majority was effectively halved to 5,464.
He said: "There's no getting away from the fact Brexit was mentioned more than any other subject on the doorstep. It has been difficult, in many respects we haven't had a coherent policy we could sum up in one sentence."
David Davies retained Monmouth for the Conservatives on 26,160, ahead of Labour's Yvonne Murphy, but both saw some of their share move to the Liberal Democrats' Alison Willott.
Wales
After 40 of 40 seats
,

-6

seats compared to 2017

,

+6

seats compared to 2017

,

+0

seats compared to 2017
If you cannot see the graphic click here.