Election 2019: SNP victory means 'fresh' indyref2 threat' - Swinson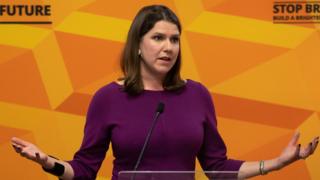 The SNP will announce an independence referendum "within days" if they win more seats in the general election, Lib Dem leader Jo Swinson has claimed.
Ms Swinson said it was therefore crucial that her party held on to its seats in Scotland in next week's vote.
She told the BBC's Andrew Neil on Wednesday that she would not work with the SNP to bring about a second EU vote if it meant agreeing to indyref2.
Ms Swinson was due to address Lib Dem activists in Edinburgh on Thursday.
Asked by Neil during her one-to-one interview with the broadcaster whether she would agree to an independence referendum in return for the SNP backing another Brexit referendum, Ms Swinson replied: "No".
She added: "I'm not going to support a second referendum in Scotland with all the extra chaos that brings.
"I will vote for a People's Vote on the Brexit deal and I think SNP members of parliament will also vote for that legislation because they will know that that's what people in Scotland want."
Ms Swinson, who apologised for voting to cut benefits while serving in the coalition government alongside the Conservatives, was expected to continue warning about independence at the rally in Edinburgh.
She was due to tell activists that SNP leader Nicola Sturgeon should: "Spend a little less time banging on about independence, and a little more time on sorting out our hospitals and mental health services".
Ms Swinson due to add: "For the last three-and-a-half years, the SNP have had front row seats watching the Conservatives fail to get Brexit done.
"They've seen that breaking up is hard to do but instead of learning the lessons, the SNP want to repeat the mistakes.
"They've watched how hard it is to break up a union of 40 years and they still want to try to break up one of more than 300 years.
"And if the SNP win in the seats we are fighting, they will announce an independence referendum within days. That is not in Scotland's best interest."
What else has been happening on Thursday?
SNP leader Nicola Sturgeon started a campaign bus tour with a warning that there are "seven days to escape Brexit".
Speaking before the start of the tour, she said Boris Johnson "must be stopped next Thursday or it will be open season on Scotland as the Tories start to impose their hard-line Brexit scheme".
Ms Sturgeon added: "I don't believe that many people in Scotland want to be waking up on Friday 13 December to news of Boris Johnson as prime minister for five years, deciding and dictating Scotland's future.
"This election will not decide whether or not Scotland becomes independent but it can send a very strong message that people in Scotland - whatever their views on that question are - want it to be decided here in Scotland."
Scottish Conservative leader Jackson Carlaw and his Scottish Labour counterpart, Richard Leonard, both used First Minister's Questions at Holyrood to attack Ms Sturgeon's record in government.
Mr Carlaw said that the international PISA figures which were released on Wednesday showed that the performance of Scottish schools in both maths and science have "never been lower".
And Mr Leonard called for Ms Sturgeon to apologise for her party's record after 12 years in power, adding: "This week, we have had confirmation that our GP practices are in crisis, that your education secretary is failing teachers and failing to provide the quality education that our young people deserve, and now today Police Scotland has been plunged into crisis."
What are your questions about the general election? You can let us know by completing the form below.
In some cases your question will be published, displaying your name and location as you provide it, unless you state otherwise. Your contact details will never be published. Please ensure you have read the terms and conditions.