General election 2019: Row over Boris Johnson debate 'empty chair'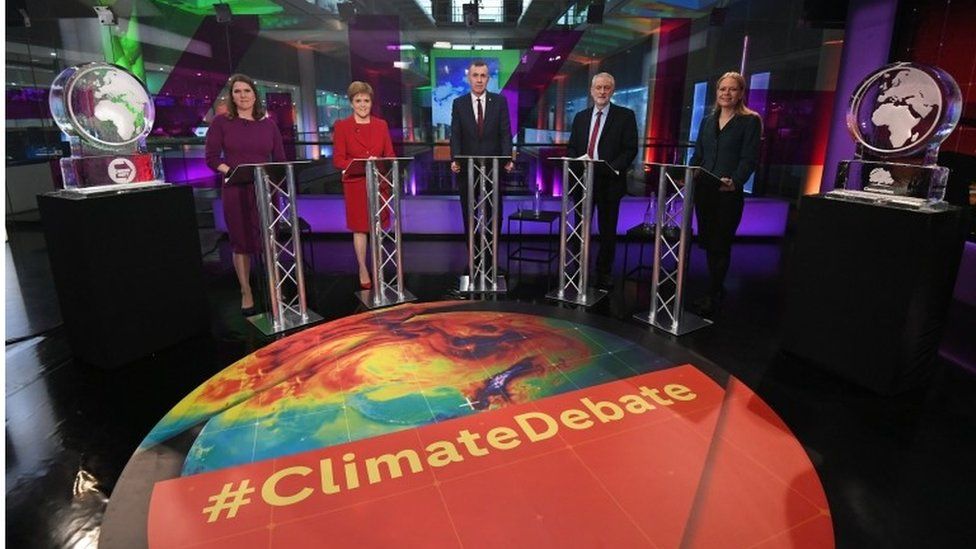 The Conservative Party is embroiled in a row with Channel 4 over the broadcaster's decision to "empty chair" Boris Johnson during its election debate on climate change last night.
Minister Michael Gove offered to take his place, but the broadcaster said the invitation was for leaders only.
The party wrote to Ofcom saying placing an ice sculpture on the PM's podium was a "provocative partisan stunt".
Mr Johnson has defended his absence, saying he can't appear on "everything".
Labour has accused the PM of avoiding media scrutiny, with shadow chancellor John McDonnell saying Mr Johnson was also "running scared" of a one-on-one interview with the BBC's Andrew Neil that all the other party leaders have agreed to.
But Mr Johnson told LBC Radio he had done "plenty of debates" and had told Channel 4 "ages ago" that he would not be attending its event.
The Conservative Party has accused the broadcaster of breaking its duty to be impartial and citing other alleged examples of bias.
In a letter to Ofcom, the party said Channel 4 News staged a "provocative partisan stunt, which would itself constitute making a political opinion in its own right" by substituting the PM with an ice sculpture.
Conservative sources briefed journalists at BuzzFeed News and the Telegraph that "if we are re-elected we will have to review Channel 4's Public Services Broadcasting obligations".
But Mr Johnson appeared to distance himself from such a move, telling LBC he would do all he could to "protect and enshrine" a free press - which he described as "one of the glories of the country".
Earlier, Education Secretary Gavin Williamson said there "no suggestion at all" that Channel 4 was now under threat.
"The government has no plans in terms of changing what Channel 4 does," he told BBC Radio 4's Today.
Former Conservative culture minister Ed Vaizey - who is not standing for re-election as an MP - said it was not "sensible" for political parties to "threaten" broadcasters and he would be "disappointed" if the Conservatives took the matter any further after the election.
With the Conservatives having the slowest timetable of the main parties currently in Parliament for virtually eliminating greenhouse gas emissions, environmentalists say Mr Gove's arrival at the Channel 4 debate as Boris Johnson's substitute was a diversion.
The five party leaders who were present diverged on how quickly the UK could meet its aim of hitting the net zero carbon target.
The Conservatives say they will do it by 2050 - but also plan to spend £28bn on road-building, which experts say will increase emissions.
The Lib Dems and SNP want a 2045 deadline. The Greens and Plaid Cymru argue it must happen by 2030.
Jeremy Corbyn said the majority of emissions must be gone by 2030 - but Labour haven't set a firm end date on reaching the zero target.
All the leaders in the debate promised a green industrial revolution and joined in a bidding war over who would plant most trees.
Mr Corbyn came under fire for dodging a question on whether he would support new nuclear power stations.
The Greens and Lib Dems said they would tax frequent fliers, but other speakers slid away from answering that thorny question.
Former Channel 4 chief executive Lord Grade told BBC Two's Victoria Derbyshire Programme that the "alleged threat" was "pretty empty" and from "some lowly unnamed source".
But he said he never would have sanctioned the empty-chair decision, calling it "a political statement" and "very, very dangerous".
Channel 4 also replaced Brexit Party leader Nigel Farage with ice in the hour-long programme.
Channel 4 News editor Ben de Pear said: "These two ice sculptures represent the emergency on planet earth, not in any human form but are a visual metaphor for the Conservative and Brexit parties after their leaders declined our repeated invitations to attend tonight's vital climate debate."
The Emergency On Planet Earth debate featured Labour leader Jeremy Corbyn, Liberal Democrat leader Jo Swinson, Scottish First Minister and SNP leader Nicola Sturgeon, Plaid Cymru's leader Adam Price and Green co-leader Sian Berry.
"Empty chairing" is where a debate or interview is conducted without one of its participants.
Meanwhile, Labour has published 60 questions it wants Boris Johnson to answer, including on sexism, the NHS, Brexit and media scrutiny.
Shadow Chancellor John McDonnell has accused Mr Johnson of "running scared", saying it was a "matter of honour" that he subjected himself to the fullest possible questioning.
The PM - who was interviewed by Mr Neil during the Conservative leadership election in July - told LBC the public was more interested in his vision and plans for the country rather than which programmes he appeared on.
The BBC said it was "in ongoing discussions" with No 10, but said they had not "yet been able to fix a date" for the sit-down discussion between presenter Mr Neil and the PM.
The Conservatives said the prime minister had agreed to be interviewed by the BBC's Andrew Marr on Sunday. Mr Corbyn and Ms Swinson have already appeared on that show during the election campaign.
Do you have any questions about the forthcoming election?
In some cases your question will be published, displaying your name, age and location as you provide it, unless you state otherwise. Your contact details will never be published. Please ensure you have read the terms and conditions.
Use this form to ask your question:
If you are reading this page and can't see the form you will need to visit the mobile version of the BBC website to submit your question or send them via email to YourQuestions@bbc.co.uk. Please include your name, age and location with any question you send in.