General election 2019: Scottish Labour calls for free school meals for all pupils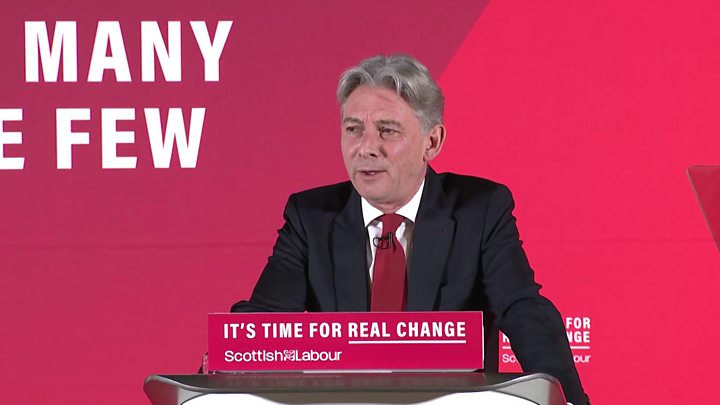 Scottish Labour has called for all primary and secondary pupils in Scotland to be given a free school meal every day of the year.
Leader Richard Leonard said the move would benefit 700,000 pupils across the country.
The proposal is included in the Scottish Labour manifesto ahead of next month's UK general election.
But decisions over education, including school meals, are devolved to the Scottish Parliament.
Labour would either need to the win the support of the Scottish government or win the next Holyrood election in 2021 before the policy could be introduced in Scotland.
If you can't see the look-up click here.
Speaking as he formally launched the Scottish Labour manifesto at an event in Glasgow, Mr Leonard said the school meals proposal was part of Labour's plan for "transformational change" across Scotland and the UK.
Other key pledges in the manifesto include:
Scottish Labour's official policy is to oppose the renewal of the UK's Trident nuclear weapons - but the manifesto says only that: "Defence is a reserved issue and UK Labour continues to support the renewal of the Trident nuclear deterrent."
Jeremy Corbyn launched the UK Labour party's manifesto on Thursday, which pledged to invest £100bn in Scotland's economy over the next 10 years.
What is Scottish Labour proposing on school meals?
All P1, P2 and P3 pupils in Scotland currently receive free school lunches regardless of their circumstances, but families have to pay from P4 onwards unless they receive certain welfare benefits or are in financial hardship.
Mr Leonard said a UK Labour government would "provide the funds for a free meal for every child 365 days a year, regardless of their social and economic backgrounds".
How much would it cost?
Scottish Labour says it has estimated that giving a free meal to every pupil during term time would cost £310m a year - £190m more than the current policy.
Extending the policy to weekends and school holidays would cost £41m, its says, while Labour would also invest £25m in the infrastructure and services needed to provide the additional meals.
Speaking ahead of the manifesto launch, Mr Leonard said Labour-led North Lanarkshire Council had run trials which showed that access to free school meals improves the health and academic attainment of pupils.
He added: "It cannot be right that in the fifth biggest economy in the world, one in every four children in Scotland is living in poverty.
"After a decade of Tory austerity and SNP complacency, it is time for real and radical change.
"For too long, many kids from the most impoverished families have gone to school hungry and been automatically disadvantaged simply due to their family's economic circumstances."
Mr Leonard said the move would also tackle the "stigma" that can surround pupils who currently continue to receive free meals after P3.
He added: "Children should not be put in a position where they are left behind through no fault of their own and through no fault of their family. Scottish Labour will end the scourge of child poverty once and for all."
Watch the BBC Question Time leaders' special
---
Do you have any questions about the election?
In some cases your question will be published, displaying your name and location as you provide it, unless you state otherwise. Your contact details will never be published. Please ensure you have read the terms and conditions.
Use this form to ask your question: