General election 2019: Labour pledges £100bn investment in Scotland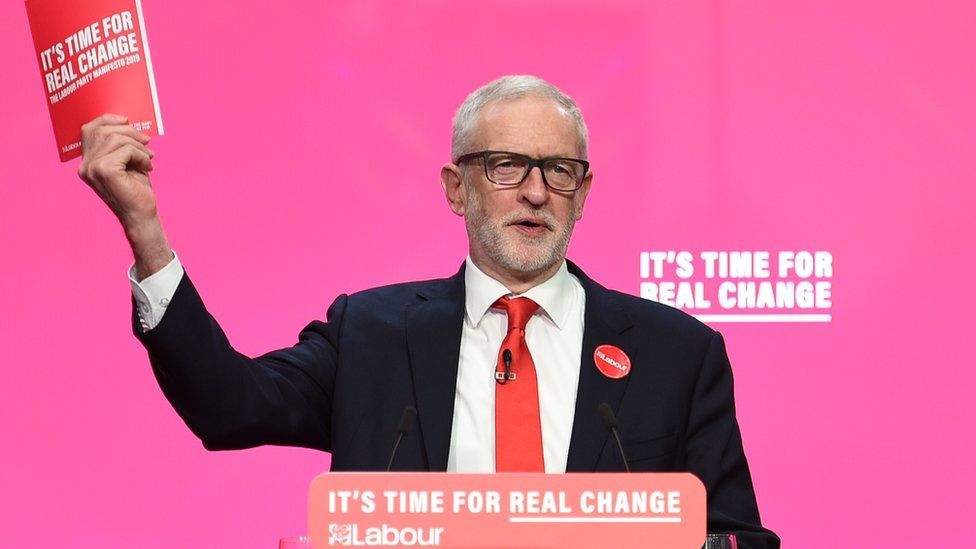 A Labour government will invest £100bn in Scotland over a 10-year period, Jeremy Corbyn has said.
Shadow Chancellor John McDonnell had previously pledged £70bn of investment in Scotland, but this is to rise to £100bn over 10 years.
The manifesto also included a windfall tax on oil companies as part of plans to "transform" the UK into a low carbon, green economy.
It stated the purpose of the tax was to force "the companies that knowingly damaged our climate" to "help cover the costs".
There has been internal controversy over the idea of a one-off oil industry tax, with some trade union officials fearing it would hit the North Sea oil industry.
However, the party has also promised a strategy to "safeguard" the "people, jobs and skills that depend on the offshore oil and gas industry".
Speaking to Radio Scotland, Joe Cullinane, chairman of Scottish Labour's election campaign, said the windfall tax was "about planning for the future" and was "not about shutting down Scotland's North Sea industry".
He said: "It's about making sure that the people who rely on the oil and gas sector are not left behind in the same way that mining villages and steel towns were in previous decades.
"It's about making sure that we're planning for the future of the workers, for the communities most affected, but it's also about accelerating new industries and supporting the supply chain to decarbonise."
The manifesto included other plans for a "green industrial revolution", with "radical" environmental polices such as £6bn for retrofitting houses in Scotland with measures such as insulation to make them greener - which the party claims will also lower bills and end fuel poverty as well as create 35,000 jobs.
But a party conference pledge to make the UK zero carbon by 2030 has been watered down.
Analysis by Douglas Fraser, BBC Scotland's business and economy editor
In a crowded field for big spending promises, a Corbyn-led Labour was always going to want to be the one that had the biggest bazooka.
So, while the Lib Dems talk of a £50bn dividend from not leaving the EU, Labour has gone for clear red water between its offer and that of its rivals.
But can it be afforded? Read more here.
The £100bn investment announced is based on policy commitments made in the manifesto, and includes £50bn of direct investment through the party's National Investment Bank and National Transformation Fund plans, and another £50bn in "Barnett consequential" cash going to Holyrood as a result of spending on devolved issues elsewhere in the UK.
The National Investment Bank will have £20bn for local projects and small businesses across Scotland.
No indyref2 in 'early years' of government
The manifesto also described Scottish independence as "economically devastating" and said a UK Labour government would not agree to a request for a referendum "in the early years".
The Labour leader was asked to clarify his position on indyref2 amid speculation it could become a key bargaining point in the event of a hung parliament.
However, the SNP has said it will not help Mr Corbyn into power unless he accepts the "principle" of a second referendum.
UK parties cannot directly pledge money to devolved services in this election because spending priorities for areas like health, education and housing are set by the Scottish government, and ministers at Holyrood can spend the Barnett funds however they want.
But Scottish Labour leader Richard Leonard said a Labour administration at Holyrood would use the money on public services, industry and infrastructure.
He said: "This extra investment will provide the funding that Scottish Labour would use to build 120,000 new council and social homes, invest £6bn in retrofitting homes to the highest energy efficiency standards, and bring dignity back to care workers and care users alike with a 25% increase in investment in social care.
"Under my leadership in Scotland, and Jeremy Corbyn's across the UK, Labour is now offering the people of Scotland a chance to break free from the failed policies of the Tories in Westminster - and from the SNP's cuts, which they would accelerate in a separate Scotland."
Arriving at Labour's manifesto launch in Birmingham, Jeremy Corbyn was pictured again wearing a tartan scarf given to him by a Scottish charity that helps care experienced people.
Mr Corbyn received the distinctive tartan scarf in February when he met representatives from Who Cares? Scotland.
The Labour leader wore it on a visit to Scotland last week and then again at Thursday's launch.
During February's meeting he committed to be a champion for people who had been in care after he heard about siblings being separated and feeling their voices were drowned out.
A spokesman for Mr Corbyn said the Labour leader was "quite enamoured" with and "deeply touched by" the charity, which "makes a real difference in this country".
He added that supporting people who have been through challenging circumstances and making the country a more equal place was central to the Labour party's values.
Duncan Dunlop, CEO of Who Cares? Scotland, said: "Jeremy Corbyn wearing our tartan scarf, which was created by care experienced people, is a symbol of respect to the people he talked to [in February], and to the wider community."
Mr Dunlop said he hoped the conversation about care experienced people continued throughout the campaign, adding: "The issues facing care experienced people are the responsibility of every elected member to change."
What do the other parties say?
The SNP has challenged Labour to match its policy platforms on topics ranging from climate change to Brexit and immigration.
SNP Westminster leader Ian Blackford said Labour had "fudged the key issues facing Scotland".
He said: "With the SNP government leading the way on climate change, setting out a positive case for strengthening immigration and protecting freedom of movement, and opposing the immoral and costly Trident nuclear weapons system, Labour must back the SNP's plans."
The Scottish Conservatives said plans for a windfall tax on oil and gas companies were "reckless", and would threaten more than 100,000 jobs in Scotland.
The Scottish Lib Dems have called for "transformational investment" in mental health services and for Brexit to be cancelled.
What are your questions about the general election? You can let us know by completing the form below.
In some cases your question will be published, displaying your name and location as you provide it, unless you state otherwise. Your contact details will never be published. Please ensure you have read the terms and conditions.
If you are reading this page and can't see the form you will need to visit the mobile version of the BBC website to submit your question.