Election results 2017: Labour takes Bedford and Kempston from Conservatives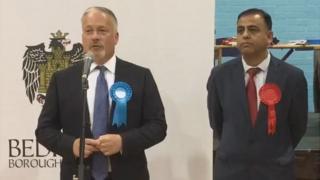 Labour has taken Bedford from the Conservatives with a majority of nearly 800 votes.
Conservative Richard Fuller had served as Bedford and Kempston MP for seven years before losing to Labour's Mohammad Yasin.
Speaking about his defeat Mr Fuller said: "It's not so bad if you believe in democracy, you have to respect the verdict."
He added that he's now going to "reflect" on his loss.
Live: For more on the elections across Beds, Herts and Bucks
Mr Yasin said he plans to "work hard for the people of Bedford" and cited the local hospital, police funding and schools as his priorities.
Labour have held Luton North and South while the Conservatives have held all their other seats so far.
Analysis: Andy Holmes, BBC Three Counties Radio political reporter
On the surface, nothing much has changed in Beds, Herts and Bucks, but dig a little deeper and in practically every seat Labour has served up a reminder to Theresa May that her plans to strengthen her hold over the country by calling this election have failed.
Personnel-wise we've one party change, with Labour's Mohammad Yasin beating Conservative Richard Fuller to take Bedford and Kempston by just 789 votes.
But in almost every other Tory seat (with the exception of the speaker's in Buckingham) whopping majorities have been eaten into, and in some cases halved, or reduced to much narrower margins.
Worth mentioning another fresh face in Hitchin and Harpenden, where Bim Alofami has been elected to replace long-serving Peter Lilley. But even there, he'll start with a majority that's a lot smaller than Mr Lilley had.
There was also an anxious evening for our Milton Keynes standing MPs, with both Iain Stewart in the South, and Mark Lancaster in the North, hanging on, but with both counts bundles were checked before a result could be called.
Sorry, your browser cannot display this content.