Keele students 'stopped from voting by admin error'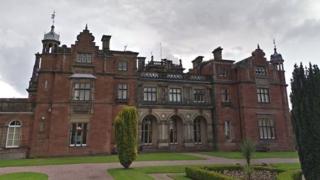 Some students at Keele University say they have been unable to vote after being told their "names were not on the list" at polling stations.
Keele Students Union Council chairman Tom Snape said up to 100 students had contacted it about problems so far.
Labour candidate Paul Farrelly told the Independent he was going to report the borough council to the Electoral Commission over the "shambles".
Newcastle-Under-Lyme Borough Council said it would investigate the reports.
Election results and live coverage in Staffordshire
Student Lucy Walker said she registered to vote last month but was among a "ridiculous number of students" who had been unable to vote.
She said she was told her "name was not on the list" at polling stations at Keele Village Hall and the students union.
Electoral 'chaos'
Biomedical sciences undergraduate Andrew Niblett, 18, said in his group of five friends who applied to vote in the area just one had been correctly registered.
The electoral office told him it was because he did not provide ID when prompted online, he said.
"But the thing is I was never prompted to provide ID and also one of my friends, who was prompted, provided ID and it got verified and they still got turned away."
Mr Farrelly, who served as the constituency's MP for 16 years, said the "chaos" was "denying people votes on a scale unprecedented in my 30 years fighting and organising elections".
A council spokesman said: "Where people haven't completed the online process, it's unfortunate, but if they haven't completed the process they can't be registered to vote."
He added those affected by out-of-date electoral lists had been able to vote after polling staff verified they were on the register.
Sorry, your browser cannot display this content.