Election 2017: Lib Dem leader Tim Farron says May should go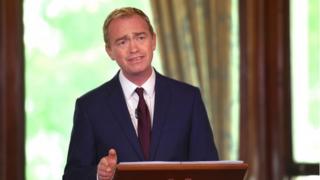 Theresa May must resign and Brexit negotiations should be put on hold, the Liberal Democrat leader Tim Farron has said.
He said talks about leaving the EU should be delayed until the new government sets out its plans to the public.
And he insisted there would be no deal to prop up a Tory government.
Mrs May has said she will form a government with the support of the Democratic Unionists.
But Mr Farron said if she had an ounce of self-respect she should resign.
"Like David Cameron before her, our Conservative prime minister rolled the dice with the future of our country out of sheer arrogance and vanity," he said.
"It is simply inconceivable that the prime minister can begin the Brexit negotiations in just two weeks' time.
"She should consider her future - and then, for once, she should consider the future of our country."
'Dangerously divided'
Mr Farron's comments came after a night which saw the former Lib Dem leader Nick Clegg lose his seat to the Labour Party in Sheffield Hallam, becoming the first major figure to fall in the 2017 election.
But former ministers Vince Cable and Jo Swinson both won back their seats after losing them in 2015.
And Mr Farron kept his seat of Westmorland and Lonsdale, although his majority fell from 8,949 to just 777.
Speaking about what should happen next with Brexit, he said the official talks should be put on hold "until the government has reassessed its priorities and set them out to the British public".
"The British people have a right to expect that our prime minister will explain to them what it is that she seeks to achieve," he said.
"The referendum showed us to be a dangerously divided country.
"This election has highlighted those divisions in technicolor - young against old, rich against poor, north against south, urban against rural.
"If we are to have any chance at healing, at coming together, we must ask ourselves some tough questions."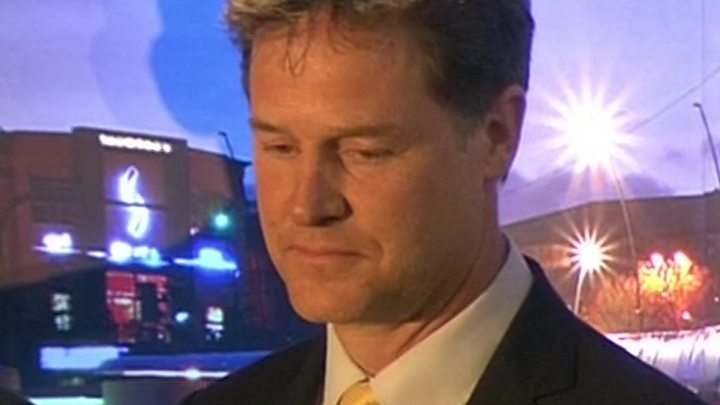 Former deputy prime minister Mr Clegg had held his seat since 2005 and had a majority of 2,353 in 2015.
The seat has now been taken by Jared O'Mara with a majority of 2,125.
In his concession speech, Mr Clegg congratulated Mr O'Mara on a "spectacular victory" and said representing the constituency had been the greatest privilege of his political life.
He added: "In my time in Parliament, I have never shirked from political battles. I have never retreated from the political battlefield. I have always sought to stand by the liberal values I believe in.
"But I have, of course, encountered this evening something that many people have encountered before me tonight - you live by the sword, you die by the sword."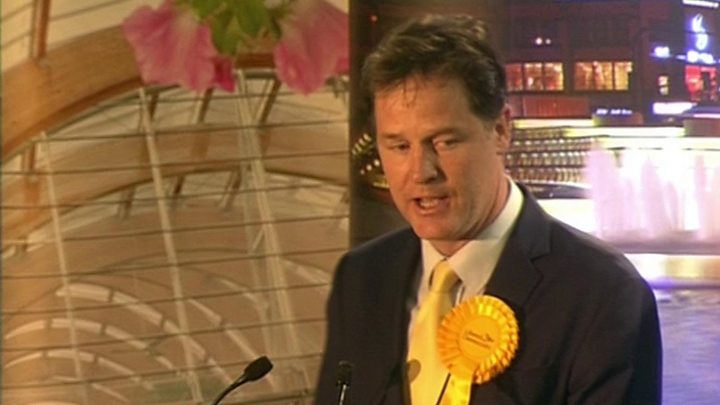 Sir Vince Cable, who was business Secretary in the coalition government, won back his Twickenham seat from the Conservatives with a majority of 9,762.
He had been the local MP from 1997, but lost the seat to Conservative Tania Mathias in 2015, who took it with a majority of 2,017.
Ms Swinson, the former equality minister, won back her seat in Dunbartonshire East from the SNP with a majority of 5,339.
She first took the seat from Labour in 2005 when she was just 25, becoming the first MP to have been born in the 1980s. But she lost it in the 2015 election when the SNP won 56 of the 59 constituencies in Scotland.
Former Energy and Climate Change Secretary Ed Davey will also make his return to Westminster after retaking Kingston and Surbiton from the Tories.
Caithness, Sutherland and Easter Ross was won back from the SNP by Jamie Stone, and Christine Jardine won in Edinburgh West.
Tom Brake held Carshalton and Wallington, Norman Lamb retained Norfolk North, and Alistair Carmichael held Orkney and Shetland.
Wera Hobhouse gained a seat in Bath from the Conservatives, and the party also gained the seats of Eastbourne and Oxford West and Abingdon.
Sue McGuire lost the Southport seat and Greg Mulholland lost in Leeds North West.
Mr Clegg took the party into a coalition with the Conservatives in 2010 and became deputy prime minister to David Cameron.
At the time, the Lib Dems held 57 seats, but after the next election five years later, the number was cut to eight.