Conservative manifesto summary: Key points at-a-glance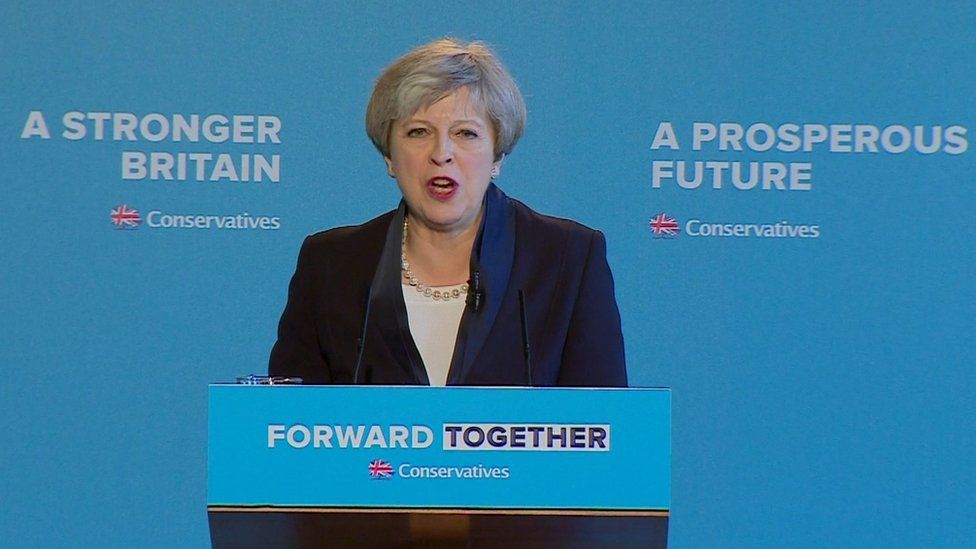 The Conservatives have launched their manifesto, "Forward, Together: Our plan for a stronger Britain and a prosperous future". The full document is available online. Here are some of the main things you need to know.
A programme to provide "strong and stable leadership through Brexit and beyond" and a "declaration of intent" to tackle the "giant challenges" facing Britain over the coming decade.
Theresa May's foreword says: "This election is the most important this country has faced in my lifetime. Our future prosperity, our place in the world, our standard of living, and the opportunities we want for our children - and our children's children - all depend on getting the next five years right... if we succeed, the opportunities ahead of us are great."
Real terms increases in NHS spending reaching £8bn extra per year by 2022/23
Scrapping the triple-lock on the state pension after 2020, replacing it with a "double lock", rising with earnings or inflation
Means test winter fuel payments, taking away £300 from wealthier pensioners
Raising cost of care threshold from £23,000 to £100,000 - but include value of home in calculation of assets for home care as well as residential care
Scrap free school lunches for infants in England, but offer free breakfasts across the primary years
Pump an extra £4bn into schools by 2022
Net migration cut to below 100,000
Increase the amount levied on firms employing non-EU migrant workers
Scrap a planned £72,000 cap on care costs, which had been due in 2020
People with assets of more than £100,000 would have to pay for their care - but could defer payment until after their death
However, the value of an elderly person's property will now be included in the means test for care in their own home, meaning more people will be liable to contribute to the cost of being looked after.
Nick Triggle, BBC health correspondent, says: "The announcement on social care has taken people by surprise. There was lots of talk the Conservatives would re-commit themselves to capping the cost of care. In the lead up to the 2015 election they had said they wanted to see costs limited to £72,000 over the course of a lifetime. But this has been ripped up.
" Instead, the policy put forward essentially means people will face unlimited costs - with the buffer of knowing £100,000 of their estate will be left untouched. Is it more generous than the status quo? Not for many people because of the way they have tweaked the fine print.
"Will it solve the care crisis, which is seeing growing numbers going without care and care firms going out of business? The jury is still out on that."
Increase the personal allowance to £12,500 and the higher rate to £50,000 by 2020
Keep pledge to ensure residents can veto high increases in council tax via a referendum
Improve HMRC's capabilities to clamp down on smuggling, including improving policing of borders as UK leaves EU
Reduce online VAT fraud
Spend more on research and development
Ensure industry and businesses have access to reliable, cheap and clean power
Deliver road, rail, airports and broadband that businesses need.
" And that is for a reason. Before 2010 and 2015, the Tory's believed their "sell" to the voter was that they could be "trusted" with the public finances and that people wanted a rapid reduction in government borrowing.
" That belief has changed. In an era of falling real incomes and struggling productivity growth (the actual way to create economic wealth), the focus has moved to more active support for the economy. Even if that means taxing and borrowing more."
Increase the amount levied on firms employing migrant workers
Listed companies will have to publish ratio of executive pay to broader UK workforce pay
Maintain pledge to cut corporation tax to 17% by 2020
Reform business rates, with more frequent revaluations
Simplify the tax system
Regulate more efficiently, saving £9bn through the Red Tape Challenge and the One-In-Two-Out Rule
Legislate for tougher regulation of tax advisory firms
Update the rules that govern mergers and takeovers
Ensure foreign ownership of companies controlling important infrastructure does not undermine British security or essential services
Legislate to make executive pay packages subject to strict annual votes by shareholders
Consider a ban on companies which cold call people to encourage them to make false personal injury claims
Reduce insurance costs by "cracking down on exaggerated and fraudulent" whiplash claims.
Increase the National Living Wage to 60% of median earnings by 2020
Ensure people working in the 'gig' economy are properly protected
Change the law to ensure listed companies nominate a director from the workforce, create a formal employee advisory council or assign specific responsibility for employee representation to a designated non-executive director
Introduce a right for employees to request information relating to the future direction of the company.
Pump an extra £4bn into schools by 2022
Scrap free school lunches for infants in England, but offer free breakfasts across the primary years
No school will have its budget cut as a result of the new funding formula
At least 100 new free schools a year
End ban on grammar schools - conditions would include allowing pupils to join at "other ages as well as eleven"
Ask universities and independent schools to help run state schools
A specialist maths school to be opened in every major city in England due to new funding arrangements
Every 11-year-old expected to know their times tables off by heart
If universities want to charge maximum tuition fees, they will be required to "become involved" in academy sponsorship or the founding of free schools
Introduce T-Levels
Change the rules to allow the establishment of new Roman Catholic schools
New faith schools will now have to prove parents of other faiths and none would be prepared to send their children to that school
Work to build up the investment funds of universities across the UK.
Sean Coughlan, BBC education correspondent, says: "Head teachers across England have been making increasingly strident protests about schools running out of cash.
" The Conservatives have responded by reshuffling about £1bn a year extra into the day-to-day running budgets of schools. Most of this would come from stopping free hot lunches for all infant pupils - a policy only launched a few years ago.
" It's no surprise that the ban on new grammar schools will be lifted - but there are no extra indications for how many might open. There is also a promise of a much wider review of admissions rules - addressing the problem of 'ordinary working families' priced out of catchment areas of good schools by housing costs."
Real terms increases in NHS spending reaching £8bn extra per year by 2022/23
A new GP contract and changes to the contract for hospital consultants
Retain the 95% four hour A&E target
Require foreign workers and overseas students to pay more to cover the cost of NHS care.
Hugh Pym, BBC health editor, says: "One health headline from the Conservative manifesto is '£8 billion more for the NHS'.
" As always with public spending figures there's a need to dig into the detail beneath the headline to work exactly what it means. Party sources say there would be £8bn more spent on the NHS in England in 2022/23 than in the current financial year 2017/18.
"The £8bn figure bandied about at the time of the last election was the increase between 2015/16 and 2020/21. Today's announcement amounted to a rolling programme of annual spending increases rather than an immediate hike. They imply slightly more in the next couple of years than had been previously pledged to the NHS and allow the Conservatives to say that spending per person will not fall (as had previously been thought)."
Social security and pensions
Scrapping the triple-lock on the state pension after 2020, replacing it with a "double lock", rising with earnings or inflation - but no longer 2.5%
Means test winter fuel payments to pensioners
Tighten the rules against pension abuse and increase punishment for those caught mismanaging pension schemes
Give the pensions regulator powers to issue punitive fines for those found to have wilfully left a pension scheme under-resourced and if necessary, powers similar to those held by the Insolvency Service to disqualify relevant company directors
Consider new criminal offence for company directors who put at risk the ability of a pension scheme to meet its obligations.
Simon Gompertz, BBC personal finance correspondent, says: "You can say that the triple lock was already in play, that the Conservatives had said before the election that they'd review it. But now they have decided, and abandoning it is a change of direction with huge financial consequences.
" Guaranteeing at least a 2.5% annual uprating in the hard years since the financial crisis will have taken the state pension from 16% of average earnings to 24% by 2020. John Cridland, who reviewed pensions for the government, said keeping the triple lock would eventually cost nearly 1% extra of our national income.
"So the policy change saves billions in the long run. On the other hand, many pensioners still find it very hard to make ends meet."
Commitment to "bear down on immigration from outside the EU" across all visa routes
Immigration cut to under 100,000
Students expected to leave the country at the end of their course unless they meet new "higher" requirements allowing them to stay
Overseas students to remain in the immigration statistics.
Mark Easton, BBC home editor, says: "With a Conservative government, the UK must prepare to become a low-migration economy.
" The party's restated commitment to reduce net-migration to the tens of thousands is ambitious and radical. Health, construction, social care, hospitality, agriculture and the creative industries are among the areas that will have to adapt to a squeeze on the supply of foreign labour.
"The Tories' plans to increase the levy on firms employing overseas citizens is designed to change the economics of using migrant workers and encourage business to train and recruit British workers. However, many business and service sectors are already lobbying for transitional visa arrangements to give them the time to adjust to lower migration levels."
Exit the European single market and customs union but seek a "deep and special partnership" including comprehensive free trade and customs agreement
Vote in both Houses of Parliament on "final agreement" for Brexit
Assess whether to continue with specific European programmes and it "will be reasonable that we make a contribution" to the ones which continue
Agree terms of future partnership with EU alongside withdrawal, both within the two years allowed under Article 50
Convert EU law into UK law and later allow parliament to pass legislation to "amend, repeal or improve" any piece of this
Remain signatories to the European Convention on Human Rights for the next parliament
Repeal or replace the Human Rights Act "while the process of Brexit is under way" ruled out, although consideration will be given to the UK's "human rights legal framework" when Brexit concludes
Reduce and control immigration from Europe after Brexit
Seek to replicate all existing EU free trade agreements
Support the ratification of trade agreements entered into during our EU membership
Introduce a Trade Bill in the next parliament
Create a network of Her Majesty's Trade Commissioners to head nine new regional overseas posts
Reconvene the Board of Trade to increase exports from Scotland, Wales and Northern Ireland as well as England.
Second part of the Leveson Inquiry into the culture, practices and ethics of the press will not take place
Repeal section 40 of the Crime and Courts Act 2014, which would - if enacted - force newspapers to pay their opponents' legal costs linked to libel and privacy actions, even if they win in court, if they are not signed up to an officially-recognised regulator
Introduce a new cultural development fund to turn around communities
Hold a Great Exhibition of the North in 2018 to celebrate achievements in innovation, the arts and engineering
Support a UK city in making a bid to host the 2022 Commonwealth Games
Support development of new Edinburgh Concert Hall as part of 70th Anniversary Year of the Edinburgh Festival, reaffirming Edinburgh as the UK's leading festival city and a cultural beacon around the globe
Make it clearer for mobile phone customers to know when they have paid off the price of their handset.
Amol Rajan, BBC media editor, says: "In her short reign as prime minister, Theresa May has been warmly supported by many of Britain's most powerful newspaper groups.
"The Daily Mail, The Times, and The Daily Express, which have different owners, have mostly been as positive toward her as they have been disobliging about Jeremy Corbyn. At the same time, these different newspaper groups have campaigned vigorously for the second stage of the Leveson Inquiry, and Section 40 of the Crime and Courts Act (which would have required them to pay the legal costs of action taken against them, if they didn't sign up to an approved regulator) to be scrapped.
" The Tory manifesto has agreed to these wishes: both Leveson 2 and Section 40 won't materialise. Obviously there is no suggestion or evidence of some kind of deal between the prime minister and the press - but clearly she has a more constructive relationship with many of Britain's top titles than even her predecessor."
Create a "national infrastructure police force", which brings together the Civil Nuclear Constabulary, the Ministry of Defence Police and British Transport Police
Serious Fraud Office to be incorporated into the National Crime Agency
£1bn to modernise the prison estate
Legislation to make changes in police practices if "stop and search does not become more targeted and stop to arrest ratios do not improve"
Legislate if progress not made to reduce the "disproportionate use of force" against black, Asian and ethnic minority people in prison, young offender institutions and secure mental health units.
Danny Shaw, BBC home affairs correspondent, says: "Although the pace of police reform may have slowed since Theresa May's first few years as home secretary, there are still some battles she's keen to fight, notably on what the manifesto says is the 'assault on injustice'.
" But the Tories' veiled threat to legislate to ensure police carry out more targeted and effective stop and searches will concern forces that have already dramatically scaled back the number of stops. At a time when knife crime is on the increase, many officers believe more use of stop and search is what's needed.
" Strangely, for a party that's resisted calls to merge some of the 43 police forces in England and Wales, there's a proposal to combine three constabularies whose geographical reach is far wider. Don't be surprised if the plan to merge the Civil Nuclear Constabulary, the Ministry of Defence Police and British Transport Police proves to be rather trickier than it sounds.
" As for prisons, much of what's already been proposed -- building new jails and strengthening inspection powers -- will continue if the Conservatives are re-elected, but there's also a commitment to reform the entry requirements, training and management of prison staff, a reflection perhaps that the problems in jails are about more than just the number of staff."
UK should have the lowest energy costs in Europe, both for households and businesses
Establish an industrial energy efficiency scheme to help large companies install measures to cut their energy use and their bills
Smart meters offered to every household and business by the end of 2020
Make it easier to switch energy providers and introduce a "safeguard tariff cap"
Independent review into the cost of energy to ensure UK energy costs are as low as possible, while ensuring a reliable supply and meeting 2050 carbon reduction objective
Against more large-scale onshore wind power for England, but maintain position as a global leader in offshore wind and development of wind projects in the remote islands of Scotland, where they directly benefit local communities
Develop the shale industry in Britain
Non-fracking drilling treated as permitted development
Set up a new shale environmental regulator
Change proposed shale wealth fund so greater percentage of tax revenues from shale gas directly benefit the communities that host the extraction sites.
Halve rough sleeping over the course of the next parliament and eliminate it by 2027
Meet 2015 commitment to deliver a million homes by the end of 2020 and half a million more by the end of 2022
Build better houses to match the quality of previous generations
Support for high-quality, high-density housing like mansion blocks, mews houses and terraced streets
160,000 houses built on government land
Maintain the existing strong protections on designated land like the Green Belt, National Parks and Areas of Outstanding Natural Beauty
Continue £2.5bn flood defence programme to protect 300,000 existing homes by 2021.
Review rail ticketing to remove "complexity and perverse" pricing, with a passenger ombudsman introduced
Minimum service levels agreed with train companies and staff during times of industrial action. A pledge to make this mandatory if a deal cannot be reached voluntarily
Focus on creating extra capacity on the railways to ease overcrowding, bring new lines and stations, and improve existing routes - including for freight
Continue investment in High Speed 2, Northern Powerhouse Rail and the expansion of Heathrow Airport, while ensuring these projects develop the skills and careers of British workers
Almost every car and van to be zero-emission by 2050 with £600m investment by 2020 to help achieve it.
Foreign policy and defence
Spend at least 2% of GDP on defence and increase the budget by at least 0.5% above inflation in every year of the new parliament
Pledge to "maintain" the overall size of the armed forces
Retain the Trident continuous-at-sea nuclear deterrent
Better compensation for injured personnel and the families of those killed in combat.
Jonathan Beale, BBC Defence correspondent, says: "Much of what the Conservative Party says on defence has already been promised or trailed - it is broadly a continuation of current policy.
" But the reassurances of spending 2% of GDP on defence and increasing the MOD budget by 0.5% won't be enough to allay real worries in the armed forces about potential further cuts.
"There is for example no guarantee of further reductions in the size of the British Army - as there was in the last Tory manifesto. Maybe it's because the party failed to live up to that commitment. Nor are there any specific numbers attached to promised new military equipment.
"The reality is the MOD is struggling to pay for all the kit that's been promised. If there is one clear policy designed to appeal to voters, it's the promise to clamp down on persistent and vexatious legal claims against British troops. The Tories have heeded public anger over so called 'witch hunts' against British troops wrongly accused of abuse on the battlefield - though it's taken them some time to respond to that public outcry. "
Introduce a "breathing space" scheme to help those in serious debt be protected from further interest, charges and enforcement action for up to six weeks.
Provide clarity across England on what devolution means for different administrations so all authorities operate in a common framework
A referendum on Scottish independence cannot take place until the Brexit process has played out and it should not take place unless there is public consent for it to happen
Protect the interests of Scotland and Wales as new UK farming and fisheries policy develops
Recognise Northern Ireland's unique circumstances as UK leaves the European Union and will seek to ensure its interests are protected.
What the other parties say:
Labour leader Jeremy Corbyn: "Scrapping the triple lock on pensions, removing the winter fuel allowance and forcing those who need social care to pay for it with their homes - the Conservatives' record is one of broken promises and failure. They promised to raise living standards, but working families are set to be on average over £1,400 a year worse off. They promised to improve all standards of NHS care, but A&Es are in crisis. They promised to protect school spending, but schools are facing crippling cuts and class sizes are soaring. You can't trust a word Theresa May says."
Liberal Democrat health spokesman Norman Lamb: "Elderly people the length of Britain will shudder at these care cost proposals. Many elderly people currently will face the cruel situation of having to sell their home when they die to fund residential care home costs. Now the frail and elderly receiving care in their own home will face what is a 'personal death tax' charged against their home. And the more help you need, the more Theresa May will snatch away when you die."
SNP deputy leader Angus Robertson: "The Tory manifesto is a cruel and callous attack on families - with deep austerity cuts that will hit pensioners, families, and our public services. Theresa May talked about 'hard choices' - and these will affect pensioners, disabled people, the vulnerable, and those on middle and low incomes."
UKIP economic spokesman Patrick O'Flynn: "The Conservatives are planning to unleash the biggest tax raid in history on pensioner households. It is unbelievable that the elderly should be subjected to a new death tax by a party that pretends to defend their interests."
Green Party co-leader Caroline Lucas: "The Tories' dementia tax and their hardline approach to migration are deeply misguided, and reveal a recklessness at the heart of Theresa May's plans. The social care changes will hit those in need worst, shifting the cost burden onto individuals and further undermining the welfare state. The lockdown on migration isn't just economically illiterate and bad for business, it's cruel too."
CBI director general Carolyn Fairbairn: "With the world watching, now is the time to send a clear signal that the UK is open for business. Firms will be therefore heartened by proposed increased R&D spending, planned corporation tax reductions and a commitment to act on business rates. But the Conservative manifesto has an Achilles heel - in a global race for talent and innovation UK firms risk being left in the starting blocks because of a blunt approach to immigration. The next government can both control migration and support prosperity - it does not need to be an either-or choice."
Institute of Fiscal Studies director Paul Johnson: "While there is not an absolute promise not to increase income tax or national insurance, what you have got is a pretty modest set of proposals which probably isn't going to require terribly much in the way of tax increases. If you look at the Labour Party proposals, they have costed out their spending proposals at a pretty big £75bn. To be clear, £75bn is a very, very big number indeed, and they have promised £50bn of tax rises. The big difference is that from the Labour Party we have a much bigger state, much more spending, much more tax. In the Conservative manifesto we have much more small-c conservatism. There isn't a lot more spending or a lot more tax."
TUC general secretary Frances O'Grady: "Theresa May's done nothing to help hard-pressed public servants who're facing more years of real-terms pay cuts. And, at a time when the UK is facing huge challenges, she's picking an unnecessary fight with trade unions, by undermining the basic right to strike. That will make it harder for ordinary transport workers to protect their jobs, pay and working conditions."
Age UK charity director Caroline Abrahams: "Sadly, we don't think these measures will solve the crisis in social care - in fact, in some ways they could make it worse. Ringing-in housing to the domiciliary care means test is going to result in many more people who are homeowners and who need care having to fund it themselves. Part of our worry is that in that situation, some older people will either struggle to do that, especially if they are on their own without any family help, and also that they could lose out quite a lot as a result."
Alzheimer's Society chief executive Jeremy Hughes: "We've been crying out for a solution that ends the catastrophic costs of dementia social care. For people spending over half a million pounds on dementia care, nothing parties have yet proposed will help."
British Medical Association council chair Dr Mark Porter: "The Conservatives have been in power for the last seven years, yet this manifesto will do nothing to reassure patients and NHS staff that they have the vision the NHS needs or will deliver the funding to ensure its survival. The extra £8bn touted in this manifesto for the NHS is smoke and mirrors - rather than extra money, this essentially extends the funding already promised in the 2015 spending review for another two years and falls far short of what is needed. The NHS is already at breaking point, and without the necessary investment patients will face longer delays, care will be compromised and services will struggle to keep up."
Transparency International UK executive editor Robert Barrington: "Maintaining the independence of the Serious Fraud Office (SFO) is crucial to avoid corruption becoming a political football. The complex, cross-border nature of corporate corruption is best tackled by a specialist agency like the SFO. The underlying concern is that this could be a crude attempt at either cost-saving or to neuter the Bribery Act so that the UK can increase its exports at the expense of the stability, security and economic development of our overseas trading partners."
Chris Ham, chief executive of The King's Fund health think tank: "Having raised expectations of major changes to social care funding, the Conservative Party's manifesto is deeply disappointing. Instead of fundamental reform, these proposals involve tinkering with a broken system and do not provide the sustainable solution that is desperately needed."
Russell Hobby, general secretary of school leaders' union NAHT: "All the evidence shows that school budgets are at breaking point. The Conservatives' decision to pledge an increase in the schools budget of £4bn by 2022 is therefore welcome. But £4bn over five years is short of what is needed, and we need to be clear when this is to be delivered and any ring-fencing that may apply."
Association of Teachers and Lecturers general secretary Mary Bousted: "The Conservative manifesto recognises the multiple crises education faces, but clearly doesn't understand the scale of action needed. Any increase to the schools budget will be welcome but unless school funding rises in proportion to increasing pupil numbers as well as in real terms, it simply won't be enough."
Theresa May's team chose a converted mill in Halifax, West Yorkshire to launch their 2017 election manifesto. As megaphone-shouting protesters gathered outside, Theresa May took to the stage without music but to applause following an introduction by Brexit Secretary David Davis, who hailed her as a prime minister "with the strength to lead Britain through these negotiations and make a success of Brexit".
Standing in front of a blue backdrop with the messages "a stronger Britain" and "a prosperous future", Mrs May unveiled what she termed "my manifesto for Britain's future - a plan to see us through Brexit and beyond, a plan for a stronger, fairer, more prosperous Britain - a plan to seize the opportunities ahead and to build a country that our children and grandchildren are proud to call home."
She said the document set out "a vision for Britain, a portrait of the kind of country I want this nation to be after Brexit as we chart our own way in the world".
Theresa May told an audience of Cabinet ministers and Conservative activists: "A stronger, fairer, more prosperous Britain that works for everyone, not just a privileged few. That is the goal. This is the plan. And now is the time. So join me on this journey. Come with me as I lead Britain. Strengthen my hand as I fight for Britain. Stand with me as I deliver for Britain. And with confidence in ourselves and a unity of purpose in our country, let us all go forward together."