General election: Labour's '£7.4bn a year extra for NHS'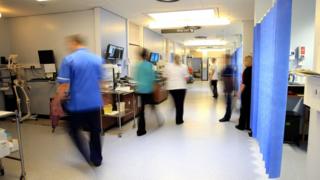 Labour says it will spend an extra £37bn on the NHS in England over the next five years if it wins power.
The investment, including £10bn on upgrading IT systems and repairing buildings, would be funded by tax increases and capital borrowing.
Jeremy Corbyn blamed the NHS cyber attack on "Tory cuts", promising a service "fit for the modern day".
Prime Minister Theresa May questioned where the money would come from to pay for Labour's plans.
The NHS is facing one of its toughest-ever financial challenges as it struggles with a growing and ageing population, and there have been warnings about a looming funding gap in years to come.
Labour says the extra money would:
Take one million people off waiting lists by guaranteeing treatment within 18 weeks
Set a new one-hour A&E target for the most urgent cases and guarantee no more than a four-hour wait for other patients
Set a new target to tackle "bed blocking" by patients waiting for care arrangements before they can be released from hospital
Cancer patients to be seen within four weeks
Mr Corbyn set out his party's £37bn "new deal" for the NHS in England - to be spent over the course of the next Parliament - at the Royal College of Nursing (RCN) conference.
Speaking in Liverpool, he said the health service was threatened by privatisation and another five years of a Conservative government would leave the NHS "cut back, broken up and plundered by private corporations".
---
Analysis
By political editor Laura Kuenssberg
For diehard Labour supporters there is just no question about who can look after the service.
And the party's announcement today of an extra £37bn for the NHS in England over five years, roughly an extra 7% every year, is a traditional kind of commitment - billions more go in, Labour outflanking the Tories on public spending.
It's not completely clear, however, how all of the £37bn would be spent. I asked the man who wants to be the health secretary in four weeks time, Jonathan Ashworth.
He outlined £10bn more for infrastructure, extra cash for patient care to get waiting lists back down, £500m for a winter crisis fund, an end to the public sector pay cap, and new targets too.
But while Labour has not yet detailed every single part of its plans, like mental health for example, he couldn't therefore account for every penny of that huge extra sum he wants taxpayers to stump up for. Read more from Laura
---
Labour, he said, would put the NHS "back on its feet".
He also promised to end the cap on NHS pay and appoint an independent body to decide future increases.
He also pledged to create a minister for mental health services as part of drive to deliver "parity of esteem" although for mental health services,
Labour said a "big chunk" of the £10bn infrastructure investment would be spent on upgrading the health service's computers, to ensure no repeat of the cyber-attack that has hit dozens of NHS trusts.
It pointed to a National Audit Office report saying that in February the Department of Health had transferred £950m of its £4.6bn capital projects budget to meet day-to-day revenue costs.
The proposed £10bn infrastructure spend would come from the £250bn investment fund which Labour wants to borrow over ten years.
The remaining £27bn for day-to-day spending would go primarily towards reducing waiting lists, alleviating future "winter crises" and increasing staff pay by an as yet undetermined amount.
There will also be cash set aside for cuts to pharmacy budgets, investing in children's health and protecting public health budgets.
'Tougher targets'
The "lion's share" of these pledges would be paid for by raising income tax for the highest 5% of earners, as well as corporation tax increases and raising tax on private medical insurance.
Shadow health secretary Jonathan Ashworth said they would be putting money in, but in return would expect "tougher targets" to be met.
"We're asking those with broader shoulders to pay a little bit extra in in tax. And all that tax that's earned from those tax changes for people earning £80,000 or more will go directly to the NHS," he told BBC Breakfast.
The Conservatives said they would be putting an extra £10bn into the NHS by 2020-21, and dismissed Labour's plans.
Lib Dem reaction
Mrs May said under a Conservative government the NHS had seen record funding. "You can only ensure we have a first-class NHS if we have a strong economy to have the funding to put into the NHS.
"We have a plan to build on our stronger economy, Labour would wreck the economy which would mean less money for the NHS."
The health service is devolved to the Scottish, Welsh and Northern Irish governments, and any new cash for England would need to be reflected in their funding settlements from Westminster.
The Lib Dems, whose leader Tim Farron also addressed the Royal College of Nursing conference on Monday, recently said they would raise income tax to help fund the NHS and social care.
The party's health spokesman Norman Lamb said: "You cannot solve the crisis in our NHS and social care services by simply imposing more top-down targets on staff and plucking numbers out of thin air.
"The Liberal Democrats are the only party with a fully costed plan to deliver £6bn more per year for the NHS and social care by putting a penny on income tax."
Janet Davies, the RCN's general secretary, urged party leaders to "put patients before politics by committing to the hard cash and staff the NHS needs".