Welsh Election 2016: Focus on EU, not leader, Tory says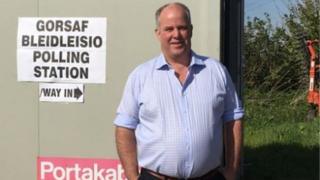 Conservatives should focus on June's EU referendum rather than "argue" over who should lead their assembly group, the party's chairman in Wales has said.
The Tories dropped to third place, behind Plaid, in Thursday's election and failed to win any target seats.
Jonathan Evans praised Welsh Conservative leader Andrew RT Davies for his "hard work" in the campaign.
But he told BBC Wales it was for the party's AMs "to decide who ultimately is going to be the leader".
Mr Davies is understood to be reflecting on the election result ahead of a meeting of the party's assembly group on Monday to discuss strategy.
He has not been speaking to the media.
Speaking on the BBC's Sunday Politics Wales programme, Mr Evans said: "Andrew RT Davies worked very, very hard in the course of this election campaign.
"The whole of the board of the Conservative Party, I think, absolutely recognises this.
"I think we were very impressed by his performances during the course of the debates.
"It will be a matter for the assembly group to decide who ultimately is going to be the leader."
Mr Evans said the Tories had achieved some "enormous" swings in some seats, but said the party "didn't manage to get over the line" in them and "in a couple of places we went significantly back".
He said Conservative AMs might want to see the outcome of an election campaign review "before they start raising issues in terms of the leadership in the assembly".