Wales Election 2016: Estimated result times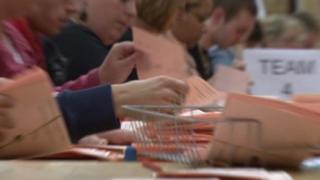 Here is a rough guide to the estimated declaration times for seats in the Welsh Assembly election.
These estimated declaration times are meant as a guide and are subject to change.
They are based mainly on information obtained from councils.
Where a local council has not been able to provide the information, the estimated declaration is based on times from previous elections.
The estimated declaration times for the regional seats can be particularly unpredictable because a regional result can only be made once all the first-past-the-post seats in that region have been declared.
Merthyr Tydfil and Rhymney, 01:00 BST
Blaenau Gwent, 02:00
Torfaen, 02:00
Alyn and Deeside, 02:30
Carmarthen East & Dinefwr, 02:30
Delyn, 02:30
Llanelli, 02:30
Vale of Clwyd, 02:30
Ynys Mon, 02:30
Aberavon, 03:00
Aberconwy, 03:00
Arfon, 03:00
Brecon and Radnorshire, 03:00
Clwyd South, 03:00
Clwyd West, 03:00
Dwyfor Meirionnydd, 03:00
Gower, 03:00
Montgomeryshire, 03:00
Neath, 03:00
Swansea East, 03:00
Swansea West, 03:00
Wrexham, 03:00
Caerphilly, 03:30
Islwyn, 03:30
Newport East, 03:30
Newport West, 03:30
Ceredigion, 04:00
Monmouth, 04:00
Bridgend, 05:00
Cardiff Central, 05:00
Cardiff North, 05:00
Cardiff South and Penarth, 05:00
Cardiff West, 05:00
Cynon Valley, 05:00
Ogmore, 05:00
Pontypridd, 05:00
Rhondda, 05:00
Vale of Glamorgan, 05:00
South Wales Central region, 05:00
Carmarthen West and Pembrokeshire South, 06:00
Preseli Pembrokeshire, 06:00
South Wales West region, 06:00
Mid and West Wales region, 06:00
North Wales region, 06:00
South Wales East region, 07:00
Data from the Press Association.