Welsh Assembly Election 2016: Labour retain five seats in north east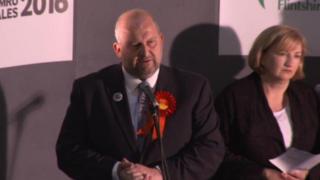 Labour has held on to five north east seats in the Welsh Assembly election.
Ann Jones won the Vale of Clwyd seat with 9,560 votes, just 768 more than the Conservative candidate.
And Lesley Griffiths held onto the Wrexham seat with 7,552 votes, with the Conservatives' Andrew Atkinson a close second with 6,227.
In Delyn, Hannah Blythyn held the seat for Labour with 9,480 votes, followed by the Tories with 5,898. Ken Skates held Clwyd South, with 7,862 votes.
Carl Sargeant, minister for natural resources, held on to Alyn and Deeside with 9,922 votes, the Tories again in second place with 4,558 votes.
Meanwhile, in Clwyd West, former Conservative health spokesman Darren Millar retained his seat, with 10,831 votes.
In the North Wales regional vote, UKIP won two seats, Plaid Cymru took one and the Conservatives also took one.
Nathan Gill and Michelle Brown are among the first ever UKIP members of the Welsh Assembly.