Welsh election: Jeremy Corbyn joins Labour campaign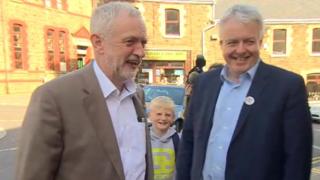 Labour leader Jeremy Corbyn has urged "progressive people" in Wales to back the party in the assembly election.
Speaking ahead of a visit on Wednesday, he called on voters "to stand with us", especially in seats where Labour faced a "straight fight" with the Tories.
He said there was "simply no protest vote available in this election; too many seats will be too close to call".
Welsh Labour leader Carwyn Jones had cast doubt on whether Mr Corbyn would join the campaign trail at all.
A visit planned for Friday was called off amid fears it would be overshadowed by the row over anti-Semitism within the Labour Party.
Choice 'clear'
As he prepared to visit Wales on Wednesday, Mr Corbyn said there was "a big choice, and a lot at stake in this election".
He appealed to people of all parties who had backed his own bid to become Labour leader to support the party in Thursday's poll.
Mr Corbyn claimed that if the Conservatives made a deal with UKIP to form a Welsh Government, "all that progress on issues that matter to you goes under a bus".
"The NHS, the environment, decent pay, support for young people - a basic commitment to fairness - these are all things that Welsh Labour fight for, day in, day out," he said.
Mr Corbyn added: "The choice for the progressive voter is really clear - to make sure there are no UKIP and Tories around the cabinet table in Wales, you need to give your support to the local Labour candidate."
Mr Corbyn told BBC Wales on the visit to Maesteg on Wednesday that he had been to Wales "many times" since he was elected.
Asked why he had left it to the 11th hour to go on the Welsh campaign trail, Jeremy Corbyn said: "I've been in Wales many times, least once [or] twice a month, ever since I was elected and I'm here today to wish our candidates all the very best for tomorrow."
Mr Corbyn insisted he was visiting marginals as well as rock solid Labour seats, adding: "But we don't take anything for granted."
On how he expected the party to do, Mr Corbyn said: "Very well, because we've got a great record.
"We've got a great record on jobs, we've got a great record on education. We've got a great record on ending the internal market in the NHS."