Welsh Assembly election 2016: Labour 'still top party'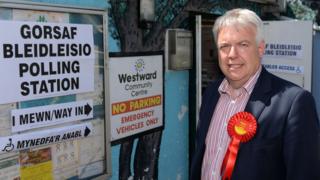 Labour still expects to be the largest party and to form a government in the next Welsh Assembly term, one of its MPs has said.
Stephen Doughty said it was a "tough election" and the results in the marginal seats would be "very close".
But he added "the reality is we're [Labour] still expecting to be the largest party and forming a government".
Polls closed at 22:00 BST and voting has begun.
Welsh Conservative leader Andrew RT Davies conceded his own seat on the South Wales Central regional list was "vulnerable" if the party picked up target constituencies such as Cardiff North and the Vale of Glamorgan.
Responding to suggestions he could lose his seat, he said: "That's life."
"I'll be at a livestock market on Saturday. There are plenty of people to fill my shoes," he said.
Seats on the regional list are calculated using a formula that takes into account how many constituency seats a party has already won.
In 2011, the then Conservative leader Nick Bourne lost his seat in Mid and West Wales after the party made constituency gains in the region.
Plaid Cymru MP Jonathan Edwards said his party's aim was to regain second place and Leanne Wood was a popular leader.
"Leanne Wood's position is completely secure," he said.
"The leadership is there for as long as she wants it. This election has the feel of 2007 to it when we came second," he added.
A projection for ITV Wales, based on an opinion poll carried out on Thursday, suggested Labour would remain the largest party.
It suggested the party would win 27 seats - three fewer than 2011 - with Plaid Cymru second with 12 seats, the Conservatives with 11, UKIP winning eight and the Liberal Democrats two.
Former MP Mark Reckless told BBC Wales UKIP would be "delighted" if the party won more than five seats. He said predictions of eight seats sounded "optimistic".
Forty constituency seats and 20 regional seats are being contested, with results expected in the early hours of Friday morning.
Wales is also electing four police and crime commissioners (PCCs), while a parliamentary by-election is taking place in the Ogmore constituency.
Counting for the PCC elections in Wales will take place on Sunday.
There will be full coverage of the results and their implications across BBC Wales television, radio and online.
The BBC Wales Election 2016 website and mobile apps will be live throughout Thursday night and Friday.