How lack of public interest has dogged Welsh devolution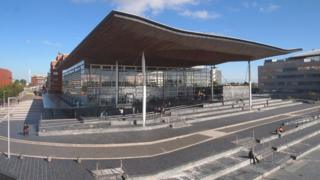 In the 17 years since devolution to Wales, the issue of voter disengagement has been a constant thorn in the side of the National Assembly for Wales, writes Jac Larner from Cardiff University's Wales Governance Centre.
Andrew RT Davies, leader of the Welsh Conservatives, has raised concerns that turnout for the 2016 National Assembly election could be the lowest seen yet.
So this raises the question: Are voters in Wales actually disengaged with the assembly election?
Let's take a look at some of the numbers.
Perhaps the most obvious way to measure voter engagement with an election is voter turnout: how many voters make the effort to go out and vote.
From the outset, elections to the National Assembly have had a significantly lower turnout than UK general elections.
The average turnout at assembly elections since 1999 has been ­­42.6%: an average 21.1% lower than the turnout at general elections in Wales (which on average tends to be higher than elsewhere in the UK) over the same period.
Perhaps a far more useful comparison is the turnout for that of other 'sub-state' elections.
Within the UK over the same period, turnout to Scottish Parliament elections was 52.7%, whilst in Northern Ireland it was 62.4%, making turnout in Wales significantly lower than the other devolved countries of the UK.
Internationally, Wales' turnout is also unusually low.
Regional elections in Spain saw a turnout of 68% over the same period, whilst in Germany, regional elections saw a 62% turnout.
In fact, the only sub-state elections of note that with a lower average turnout are those to the Greater London Assembly, at 38.9%.
Lack of enthusiasm?
The 1997 referendum, which asked voters if they wanted a National Assembly for Wales, had a turnout of only 50.1% (compared to 60.4% of Scottish voters who voted in their devolution referendum).
The result was also far less enthusiastic in Wales than in Scotland.
In Wales, just 50.3% of the population voted in favour of devolution, whereas in Scotland 74.3% of voters voted in favour of a Scottish Parliament.
The 2011 referendum on further powers for Wales provided a far more positive result for proponents of devolution in Wales, with 63.5% of the population voting in favour of giving the assembly more powers.
Yet only 35.2% of registered voters turned out to vote.
Lack of knowledge?
So, this all begs the question: Why do voters in Wales seem to be more disengaged than elsewhere?
A frequently proposed explanation has been that voters in Wales do not have enough information about what devolution means for them, or on the role of the assembly and Welsh Government.
Perhaps the two most significant policy areas that the National Assembly has control of are health and education.
Polling by the Wales Governance Centre at Cardiff University has shown that only 61% of respondents knew that the Welsh Government was responsible for education in Wales and even less, 48%, knew the Welsh Government was responsible for the NHS.
If voters do not understand the powers the assembly and Welsh Government have, then there is little motivation to go out and vote.
Unless voters understand that decisions made on 5th May will influence their lives in Wales, this disengagement may well continue.
Why?
The question of why voters in Wales are particularly disengaged at assembly elections is a difficult one.
One factor that will be likely to affect engagement at the 2016 assembly election is the EU referendum and its proximity to the assembly poll.
A referendum of such magnitude naturally dominates much of the news content voters in Wales are exposed to.
The relatively small domestic media presence in Wales means that most people in Wales get their news content from UK-wide sources, which understandably focus on the EU referendum.
This focus on the referendum may deprive voters of the information they require to feel like they are able to make informed choices at this assembly election.
Another factor that may play a role in the lack of engagement in Wales is something known as 'electoral fatigue'.
Asking voters to vote three times in less than 14 months places an unusually high cost on voters in electoral terms: they must make sure they are registered, obtain information on party policies, and finally make the effort to go out and vote.
Voters instead may prioritise voting in elections they perceive to be most important, which in this case will likely be last May's general election and June's EU referendum.