Assembly battlegrounds: Rhondda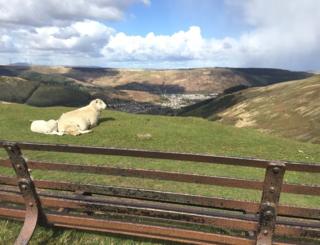 Drive along the Bwlch-y-Clawdd Road in the Rhondda and you come to a vantage point near the top of the Bwlch mountain.
On one side, a mural of the red dragon painted on to the rockface with the message: "Cymru am Byth. Croeso i'r Cymoedd. Welcome to the Valleys."
On the other, a breathtaking view of the town of Treorchy and the wider Rhondda valley where a fierce political battle is being waged between two of Welsh politics' biggest beasts.
In the red corner, the incumbent, Labour's Leighton Andrews; while in the green corner, the challenger, Plaid Cymru Leader Leanne Wood.
In the 2011 assembly election, Mr Andrews retained Rhondda, a seat he has held since 2003, with a majority of 6,739 and 63.2% of the vote.
But his team has been working the patch since the Saturday after 2015's general election - recognition, no doubt, of the bigger challenge he faces in this campaign.
"I'm not sure it's tighter than usual but we are working very hard indeed," Mr Andrews, said as he knocked doors with his team of volunteers in Tonypandy.
"We're going after every vote. We have invested a lot of time and energy into this campaign."
A former education minister and the current public services minister, he also has Labour's uninterrupted record as a Welsh government since the start of devolution to defend.
"The only people who talk about it being 17 years are our opponents and the media.
"Ordinary people talk about the issues that are on their mind at the present time," he added.
Further up the valley, in Treherbert, Leanne Wood and her "Team Rhondda" are in good spirits - recognising the significant challenge they face, but confident of a close race.
Born and raised in Penygraig in Rhondda - where she still lives - Plaid Cymru chose Ms Wood as leader in 2012 with a clear goal in mind: to loosen Labour's grip on seats in the south Wales valleys.
But will Plaid repeat its 1999 performance when it unexpectedly snatched the Rhondda from Labour?
"I'm very encouraged by the support that I'm seeing right across the valleys for Plaid Cymru," said Leanne Wood.
"More and more people are recognising that they've given a lifetime of loyalty to one party and they've not been repaid in any sort of decent way.
"It's time now for a change and more and more people are recognising that."
Unlike Leighton Andrews, Ms Wood, as party leader, has been unable to focus her efforts solely on the Rhondda.
But, on the other hand, she has enjoyed a high media profile, especially since the general election, that previous Plaid leaders could only dream of.
Laura McAllister, Professor of Governance at the University of Liverpool, thinks "Leanne Wood has to make serious inroads in to denting Leighton Andrews and Labour's majority in this election."
"However, it's going to be incredibly difficult for Plaid Cymru to capture the seat from Labour.
"But there could still be a few surprises particularly as we don't know what yet what kind of impact UKIP will have in these elections," she added.
Stephen Clee is the anti-EU party's candidate.
I arrange to meet him at a property in Tonypandy that he is redecorating for one of his landlord clients.
"I'm asked why I don't knock doors. It's impossible. I have a job to do. I work Monday to Friday and where I can I'll do a Friday afternoon and definitely a Saturday.
"I've loved my time calling into ladies hairdressers. You would not believe the amount of verbal attacks I've had in ladies hairdressers! But they are funny, fair play.
"They're spirited and that's good because that's what's missing around here."
But he's adamant that his party has reinvigorated people's interest in politics...
"That's got to be a thing because until we get the general public involved in politics it's not going to change.
"At the minute people are blindly voting Labour because they've always voted Labour.
"But once you get people like us in there stirring the cart up a bit they start realising something else is going on and then they start listening and looking and thinking: 'Well, really, what have Labour done for us?'"
'People power'
In the assembly's four elections to date, the Green Party didn't field a candidate - but Pat Matthews is flying the party's flag in this campaign.
And despite standing in previous votes, other parties, have struggled to register in the Rhondda.
Maria Hill, the Welsh Conservative candidate, said: "For those who have never voted Conservative before in the Rhondda, I would say this: the Welsh Conservatives will not let you down."
The Welsh Liberal Democrats' candidate, Rhys Taylor, said: "We're hearing it's a two horse race between Labour and Plaid Cymru but what Wales really needs is a different approach to politics in Wales, giving power back to people, back to communities."
If elections were fought on the number of placards in a constituency, then it certainly would be a two-horse race.
But with the finish line in sight, all six candidates are jockeying for position.