Welsh election: Final push by parties before polling day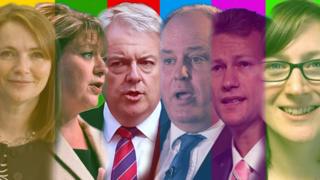 Political leaders are making their final pitch for votes before Thursday's Welsh Assembly election.
Opposition parties are trying to keep the focus on Welsh Labour ministers' record on public services.
Labour won 30 out of 60 seats in 2011 and has argued there have been "real improvements" in areas under the Welsh Government's control such as the NHS.
In 2011 the Conservatives secured 14 seats, Plaid Cymru 11 and the Liberal Democrats five.
Welsh Labour leader Carwyn Jones is campaigning in south Wales on Wednesday.
He told BBC Wales he would not be "bound" by the results of a review into university tuition fees due this autumn.
In April, Education Minister Huw Lewis said the next Welsh Labour government would "honour" the findings of the review.
But asked on Radio Wales' Good Morning Wales programme why the party had provided little detail on its tuition fees policy, Mr Jones said: "We won't be bound by what that report says".
The review, led by Prof Sir Ian Diamond is looking at whether there need to be changes to the current system whereby the Welsh Government pays up to £5,190 towards tuition fees for Welsh students studying anywhere in the UK.
The Labour manifesto promises Welsh students a better deal than that on offer in England.
Mr Jones, first minister since 2009, declined to say when he might stand down from office.
"I think it's presumptuous if you say to people, I'm going to put my own timetable forward for how long I'm going to do this job," he said.
Conservative leader Andrew RT Davies is completing a 36-hour tour of Wales, saying he was aiming to "knock an arrogant, tired, failing Labour Party off the perch".
He has said he would scrap free prescriptions for people paying 40% income tax, claiming it would free up £35m-£40m which the Tories would re-allocate to cancer services and other "pressure points" in the health budget.
"I believe a contribution from the very richest is social justice to pay for cancer services and stroke services across Wales wherever you live," he said.
Liberal Democrat leader Kirsty Williams visited Llanidloes in Montgomeryshire, and urged people to "vote for the party that gets things done".
She said: "Unlike the other parties, we're not content with whinging from the sidelines.
"Welsh Liberal Democrats always roll up our sleeves and get things done for our communities, and for the people of Wales.
"If our record over the last five years shows anything, it's that a vote for the Welsh Liberal Democrats is a vote for our policies being put into action."
Plaid Cymru leader Leanne Wood was campaigning in the south Wales valleys.
She appealed to disillusioned Labour voters, telling them she "shared their values".
She said: "For people who want to strengthen and protect our public services, who want to deliver fairness and equality in our communities, and who want a government that will look after people from cradle to grave, you can be confident that Plaid Cymru wants that too."
'Progressive voting'
Meanwhile, UKIP leader Nigel Farage held a public meeting in Newport on Tuesday evening.
UKIP is hoping to win its first assembly seats on Thursday, with Mr Farage predicting it will have five AMs.
The Wales Green Party said it was urging people to give the Greens their second vote, for the regional list, to help the party "fight for a better, fairer and more sustainable Wales".
"We are lucky in Wales to have a progressive voting system," said leader Alice Hooker-Stroud.
"On your second vote, the regional ballot, you can vote for what you believe in."