Welsh election: Call to reject UKIP 'politics of fear'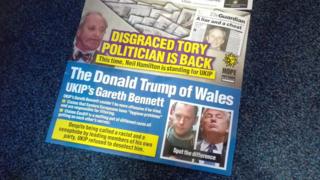 A campaign group is urging people not to vote for UKIP at the Welsh Assembly election, claiming the party promotes the "politics of fear".
A Hope Not Hate leaflet in Cardiff calls UKIP candidate Gareth Bennett "the Donald Trump of Wales" for blaming litter problems on immigration.
Another UKIP candidate, Neil Hamilton, is attacked under the headline: "Disgraced Tory politician is back".
A UKIP spokesman claimed Hope Not Hate "thrives on hatred" instead of debate.
'Intolerant view'
Tom Godwin, Wales organiser for Hope Not Hate, said: "UKIP has a long and inglorious history of promoting division within and between communities.
"Whether that be blaming Muslims or other minorities, refugees, making homophobic or racist statements: it all points to an intolerant view of Wales, one that wants to look back and 'blame' others, not look ahead and celebrate everything we've achieved together, nor offering a vision for the young of our nation."
Referring to the leaflet criticising Mr Hamilton and Mr Bennett, Mr Godwin said: "We offer no apology for shining a spotlight on the crass actions of UKIP in promoting a disgraced cash-for-questions MP as a candidate, nor another who blames immigrants for rubbish on our streets.
"Everywhere UKIP goes, tension follows, and that's not the vision for Wales - or the United Kingdom as a whole - that we think most people want."
Hope Not Hate said around half a million leaflets had been distributed in Wales, targeting voters in Cardiff, Wrexham, Newport, Swansea, Anglesey, Bangor, Aberystwyth, Carmarthen, Merthyr Tydfil and Caerphilly.
Another version of the leaflet denounces UKIP candidate Mark Reckless as an ex-Tory MP who voted for the bedroom tax and cuts in benefits, public services and taxes for the rich.
A UKIP spokesman said: "Hope Not Hate are an organisation that thrives on hatred, which is ironic given what they purport to stand for, and pursue the personal vilification of individuals rather than embracing real political debate.
"Of course they receive a huge amount of their funding from the unions and should be regarded as nothing more than a front organisation for the Labour Party as one of their attack dogs.
"They are deeply unpleasant and should simply be ignored."
Recent polls suggest UKIP is on course to win its first ever seats in the Welsh Assembly at the election on Thursday.