Farage: I've not spoken to UKIP candidate Neil Hamilton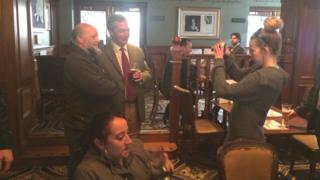 UKIP leader Nigel Farage has said he has not spoken to Neil Hamilton, one of the party's leading assembly election candidates, during the campaign.
Visiting Caerphilly, he insisted he supported all of UKIP's candidates and hoped the former Tory MP "does a very good job" as an assembly member.
Mr Hamilton is the party's lead candidate for Mid and West Wales.
Senior party sources have said Mr Farage and UKIP Wales leader Nathan Gill were unhappy he was selected.
Asked if he had spoken to Mr Hamilton recently, Mr Farage told BBC Wales: "No.
"I was in his constituency last week - he was away on business.
"But I was there in Welshpool, campaigning in Mid and West Wales. What more evidence do you need?
"I've campaigned in all five sub-regions that are up for the election on the PR [proportional representation] list.
"I have supported all our candidates. I have come back again and again to Wales, repeatedly. I'm here today, I'll be back again next week.
"Neil Hamilton is going to get elected and I hope he does a very good job."
Mr Gill confirmed that if he is elected to the assembly on 5 May he would step down as a member of the European Parliament "at the first opportunity", saying "I don't want to be an MEP."
However, his potential successors as MEP, Caroline Jones and Dave Rowlands, are also assembly candidates.
Mr Farage said: "[Nathan] can't do both.
"That's clear and that's an agreement he and I have together which, of course, he will honour.
"Maybe he'll wait five or six weeks for the referendum [on UK membership of the EU on 23 June] and then make his decision.
"And that's fair enough."