Health manifestos - Labour dissected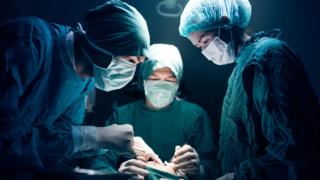 Health is arguably the most important issue for many voters at next week's Welsh Assembly election.
BBC Wales has asked some of the main medical and health organisations to give an examination to the parties' manifestos and give their critique of their policies.
Here is the dissection of the Labour manifesto:
The Royal College of Physicians welcomed commitments to:
A new treatment fund for life threatening illnesses
Reducing waiting times and speeding up the diagnosis of illness
Investing in integrated health and social services centres
Encouraging more doctors to train in Wales
Prioritising quality of care and respect NHS staff
However, it was concerned:
There is little detail on how many of their manifesto commitments are to be achieved, such as eliminating unnecessary attendance at hospitals and GP surgeries and ensuring more healthcare and services are available closer to people's homes
There must be no reduction in the medical workforce training budget if the new single body to commission and provide training and education for all healthcare professionals goes ahead
There is almost nothing about public health in this manifesto, especially on how to tackle the widespread harms caused by alcohol, obesity and tobacco use
The RCN, which represents 25,000 nurses in Wales, said the manifesto matched its own Time To Care campaign priorities in the following:
Investing in training NHS staff, especially the primary care workforce
Increasing nurse training places
Prioritising mental health treatment, support, prevention and de-escalation
Improving access to talking therapies - a direct RCN "ask"
Repealing sections of Trades Union Bill
Increasing physical activity - Labour emphasises increasing physical activity though sport and leisure facilities and improvements to infrastructure, such as safe cycling routes
Reducing alcohol misuse
The BMA represents 8,000 doctors in Wales.
Like
We will complete the review of the functions of Healthcare Inspectorate Wales (HIW) and Care and Social Services Inspectorate Wales to support integration.
HIW is not fit for purpose and does not carry the confidence of the medical profession, so we welcome the pledge to carry forward the review with a review to reforming it.
Specifically we would like a new government to:
Reform HIW to make it as independent as possible whilst strengthening its remit
Ensure that both the inspection and regulatory side of HIWs work are resourced and balanced effectively
Make sure that HIW covers all of the places where healthcare is provided and promoted
Allow HIW access to relevant information from health boards and trusts, and from other stakeholders such as CHCs and the Wales Audit Office in a timely manner. The remit and work of these organisations should complement each other appropriately
Dislike
It is difficult to disagree with the health pledges outlined in this document, however, we are disappointed with the level of detail contained in many of the proposals. For instance, "we will provide more opportunities to keep fit and active" is something we would clearly welcome, but without a concrete proposal on how this would be done it is very difficult to scrutinise
RCPCH is responsible for training and examining paediatricians and has more than 600 members in Wales.
It welcomed:
More action to tackle the stigma surrounding mental illness, increase access to talking therapies and promote better emotional health in schools - we have called for parity of esteem for child mental and physical health
Action to encourage more doctors to train in Wales - we have called for the development of a strategic workforce plan which should include measures to address the child health and paediatric workforce.
A commitment that everyone in Wales will be supported to be physically active and able to live, work and play in environments that help, not hinder, regular physical activity - there is a basis here on which to progress our call that safer environments be created for children to walk, cycle and play in
It is concerned:
There is little detail as to specific measures for children and young people to tackle the stigma around mental illness or to increase access to talking therapies for children and young people.
There are no plans for a Welsh Minister for Children to lead and take responsibility for policies affecting children, child rights and child health, nor is there reference to a child health strategy - something on which we would hope to be able to work with any future Welsh Government
The other responses can be found here: