Welsh election: Immigration issue on voters' minds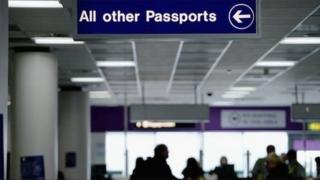 Health, education and the economy - the big three when it comes to the Welsh Government's powers, and three areas often cited as big concerns for Welsh voters. But there's another topic that consistently scores highly as a big issue - immigration.
Unlike health, education and the economy, power over it is not devolved to Cardiff Bay.
But that does not mean it is not an influence on the assembly election.
In a recent BBC Wales poll, only health and jobs came higher when people were asked to name the issue most important to them at the assembly election.
Polling expert Prof Roger Scully from Cardiff University said it was a fairly consistent theme.
"The evidence shows us concern about immigration is high in Wales," he said.
"When you ask people 'what are the issues most important to you?', and ask them specifically to think about the assembly election, immigration still comes pretty high up the list."
I put Prof Scully's theory to the test in the south Wales valleys town of Abertillery, Blaenau Gwent.
I asked a handful of people in the town centre whether immigration was an issue that would influence how they vote.
Around half of the dozen or so people I spoke to said it was.
I then asked those people if it would influence them specifically at the assembly election, despite power over immigration being held at Westminster.
To varying degrees, most of them said it would.
Certainly none of them took my pointing out it was not devolved as a reason to disregard it, or to change their original answer.
So if immigration is an influence on how some people will vote - what does it mean for the election?
Recent research suggests, perhaps unsurprisingly, that immigration is cited as a main concern of the vast majority of UKIP supporters.
But it scores highly as an important issue for Conservative and Labour supporters too.
Then there is the question of whether the political parties and the media should limit their campaigning and coverage to topics that are devolved.
Some audience members at one of BBC Cymru Wales' Ask the Leader programmes were unhappy, for example, that immigration was being discussed.
This year's manifestos almost entirely focus on assembly matters.
But as has been seen in the past - for example the role the NHS in Wales played at last year's Westminster election - inevitably voters are weighing up all sorts of influences when they enter the polling booth.