Welsh election: Tory blueprint to 'transform' NHS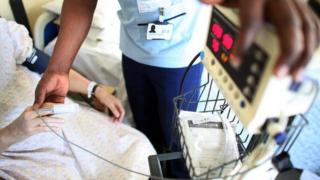 A detailed blueprint for "transforming the Welsh NHS has been unveiled by the Welsh Conservatives.
The party has promised to protect the health budget and increase spending.
A specific manifesto for health set out Tory plans to make the NHS more accountable to patients and give them better results.
Conservative spokesman Darren Millar claimed health services were "not always reaching their full potential" under Labour.
But in Wednesday night's BBC Wales Leaders' Debate, First Minister Carwyn Jones said Labour ministers were spending a bigger share of their budget on the NHS than ever.
'Starved' budget
"Targets are routinely missed, cancer patients are being denied life-saving drugs and funding is not always spent effectively," Mr Millar said.
"Labour, propped up by Plaid Cymru and the Lib Dems, have starved the health budget of £1bn in recent years, making Wales the only UK nation to see health spending decline since 2010.
"Put simply, the state of the NHS in Wales shows that Labour are not up to the job and that the time has come to secure real change."
Pledges in the health manifesto include:
An NHS efficiency task force
£100m health transformation fund to support NHS modernisation
"Scores on the doors" rating system for hospitals to help patient choice
Directly elected health commissioners for each health board
Prescription charges for those who can afford it, subject to exemptions
An independent NHS performance unit to set "sensible" targets
An independent inquiry into "poor standards" in the NHS in Wales
Specialist plans to boost treatment of cancer, heart disease, dementia and stroke