Welsh Lib Dems promise £10,000 salary hike for AMs would 'never happen again'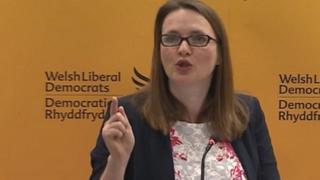 The Welsh Liberal Democrat leader has vowed that a planned 18% salary hike for AMs would "never happen again" under her party.
Kirsty Williams has promised to peg AMs' pay to general rises in the public sector.
AMs will get a salary of £64,000 from 5 May, up from £54,000, following an independent remuneration board decision.
The Lib Dems pledge would apply to the Senedd term after the 2021 election.
Ms Williams said: "It's outrageous that, at a time when public sector workers have had their salaries either frozen or rise only slightly, politicians are getting a salary hike of 18%.
"Never again can such a rise be allowed to happen."
Reaction
A Plaid Cymru spokeswoman said: "It is interesting that Kirsty Williams has sought to draw attention to how much AMs earn during an election campaign when she herself takes home far more than Plaid Cymru leader Leanne Wood, who has refused to take successive pay rises and refused to take her £23,000 leader's allowance when she was elected to lead Plaid Cymru.
"AMs salaries are set by an independent remuneration panel, as they should be, and subject to consultation."
Ross England of the Welsh Conservatives said: "A Welsh Conservative Government would cut ministerial pay by 10% across the board, ploughing each and every penny into funding efforts to boost youth engagement with politics."
A UKIP spokeswoman said: "While we support the sentiment there is currently an independent remuneration board which is quite rightly separate from the assembly to determine these matters. However we would back these proposals being presented for further consideration to that panel."
Labour was also approached for comment.
---
How did the pay rise come about?
When the £10,000 pay rise plan for the next assembly term was first announced, former chairman of the board Sandy Blair said the increase would reflect the responsibility of the job.
He said: ''Wales needs good governance and good government. That requires a strong, effective National Assembly.
"For it to be so, the individual members of the assembly must be exceptional in their motivation and abilities and remunerated accordingly."
The announcement was widely criticised by AMs, with First Minister Carwyn Jones saying he couldn't see how Labour could support it. But despite the adverse publicity the decision stood.
An attempt by the Lib Dems to stop the rise, by voting against the £52m assembly commission budget - failed in November.
At the time AMs pointed out the board was created after the Westminster expenses scandal to stop politicians in Cardiff Bay making decisions about their own salaries.
But at the time former deputy presiding officer David Melding said the assembly commission had a legal responsibility to provide the funds needed to deliver the board's decisions.
"You cannot pick and choose in this process because you just devastate the principle of independence," he said.