Ex-Labour Cardiff councillor Ralph Cook joins Greens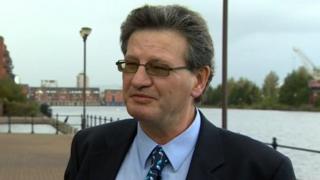 A former Labour deputy leader of Cardiff council has joined the Wales Green Party.
Ralph Cook said he made his decision after reading the party's manifesto for the assembly election.
He said he had been "a life long practical environmentalist" long before he was elected as a Labour councillor.
Mr Cook has served as an independent since quitting Labour in 2015 following a row over the way the party was running Cardiff.
"I am delighted to have joined a party that holds true to its values whilst also allowing its representatives to express their own positions on the big issues of the day: such a refreshing contrast to the controlling attitude of the Labour Party," he said.
Hannah Pudner, deputy leader of the Wales Green Party, said: "He isn't the first, and won't be the last, disillusioned Labour Party member who wants a fresh approach to politics in Wales and to join the Green party."