UKIP Wales' manifesto: What's in it?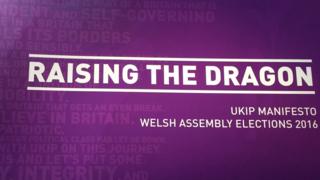 You will heard a lot about UKIP's prospects for the assembly elections - how they're expected to get as many as eight AMs and how they've been dogged by infighting.
UKIP has traditionally been focused on campaigning to leave the European Union, but on Friday we found out a little more about what they'd actually like to do in the assembly with the publication of their Welsh assembly election manifesto.
It is a document that runs to 48 pages - much shorter than both the Plaid Cymru and the Liberal Democrats manifestos.
But apart from some ideas that have support across the political spectrum, it's difficult to see how many of UKIP's policies would be implemented unless they somehow find themselves in government. And as things stand, it is highly unlikely Labour, Plaid Cymru or the Lib Dems would work with the party.
---
Devolution
The common accusation against Assembly members is that they are preoccupied with constitutional matters.
UKIP promises to shake-up Cardiff Bay, so it is surprising that the first thing in their manifesto is what they would do about the constitution.
Their approach is unorthodox compared to the consensus on Wales' devolution path that is held, by and large, by the rest of the country's parties.
UKIP opposes the Wales Bill - which would change how the Assembly works in a bid to make it clearer - because it is "incoherent" and would create "unstoppable pressure for a separate legal jurisdiction".
They do not want more Assembly Members. They acknowledge there is insufficient scrutiny in the Welsh Assembly, but they want MPs to assist the body. The argument goes that, as their responsibilities have decreased, the MPs can do this in their free time. Councillors could also be involved in the process.
The party also promises to promote devolution to local councils and communities.
---
Health
UKIP's signature health policy is to give voters control over who runs Wales' health boards.
The party says this will put patients and their families at the heart of NHS decision making.
The new elected health boards would be slimmed down to have no more than 11 people, and would be elected through single transferable vote.
UKIP would also:
Assign a specialist cancer nurse to everyone who is given a cancer diagnosis as their key worker in the acute stages of treatment
Improve Welsh language provision for dementia and end of life care
Launch a 'Keogh-style' independent inquiry into the whole NHS with the aim to ensure safe and minimum staffing levels
Ring-fence mental health funding at a higher level than is currently the case
The party would also integrate the NHS with adult social care and place the combined service under the remit of elected local health boards.
Abolish the practice of arranging home care visits in fifteen-minute windows
Streamline bureaucratic requirements for social care inspections
---
Education
A couple of UKIP's policies suggest reviving ideas from the past.
One example is grammar schools, which were abolished in Wales by the 1980s but still exist in England.
UKIP says secondary schools should be given the opportunity to develop into grammars or vocational schools, which they say could improve social mobility for able children from poorer backgrounds.
Entry to grammars would be based on an exam taken by all pupils in the final year of primary school. It is not called an eleven plus, but it sounds like one.
New University Technical Colleges could also provide a "technical education experience," working with employers and a local university with at least 40% of study time dedicated to technical specialisms.
The party also promises to:
Streamline inspection and performance management "to get more money to the educational 'front-line'", and shorten inspections and make them more classroom orientated
Increase the number of study hours dedicated to the development of literacy skills
Introduce statutory modern foreign language teaching from age seven
Ensure efforts to promote English/Welsh bilingualism are a springboard for learning other languages, not "an alternative"
Ensure all parents are made fully aware of sex education teaching materials before they are used
UKIP also says it would replace the tuition fee grant with loans for Welsh students choosing to study in England.
However fees would end for Welsh students that study science, technology, engineering, mathematics and medicine subjects in Wales.
---
Transport
It's not devolved, but UKIP says it would abolish the Severn bridge tolls within two years when they pass into public ownership.
The party says they'd fund any Welsh Government contribution to the bridges' maintenance by axing the budget for climate change projects.
UKIP says it would not support the building of the M4 Relief Road along the lines of the six lane motorway Black Route supported by the Welsh Government.
Instead it supports the "Blue Route", which is an upgrade of existing Newport roads.
UKIP also promises to:
Widen the A55
Upgrade the A470 and A483 north/south corridors
Freeze rail fares across Wales for first two years of next franchise and cut fares by 10% on lines
Support development of a South Wales metro system but not at the expense of projects that can be done now
Take a zero tolerance attitude to dangerous cycling
---
The economy and housing
UKIP says there is no such thing as a Wales-wide economy. South and North Wales' economies have closer ties with the adjoining regions of England than each other, the manifesto says.
The party says it would strengthen "key economic ties between South Wales, Bristol and the M4 corridor to London", and ensure North Wales is integrated into opportunities flowing from the "Northern Powerhouse" concept.
The manifesto says the party would "support joint working between Welsh and English council areas which have close economic links". The budget for economy development would be devolved from Cathays Park to local councils.
On housing, UKIP says it would incentivise brownfield development.
"Although we are fully aware of the need to build more homes, UKIP will not allow new housing to strip our nation of prime agricultural land," the party says.
---
Environment
UKIP question whether the Welsh Government's spending on climate change "will have any material impact on the climate". The party says it will axe the £73 million Welsh government budget for climate change projects.
"We do not consider it to be affordable in light of other budgetary demands," the party says, adding £5m-£10m would be redistributed to the Severn Bridges.
Other environmental policies include:
Lobby for UK ban on live export of animals
Lobby for UK-wide ban on sky lanterns
Track down and close illegal puppy farms
Make it compulsory to report traffic accidents involving deer, and require the local wildlife managers to respond, search for, locate and dispatch these deer
---
Local councils
On local councils, UKIP says it would:
Support lower council tax
Introduce "single transferrable vote" for elections
Use referendums to give local people control over major planning decisions, like wind turbines
Make the setting up of a traveller pitch without permission illegal
Cut "excessive" allowances for councillors and slash "outrageous pay deals"
Dismantle the cabinet system used to run councils and reintroduce a committee system, which existed prior to reforms at the turn of the millennium
Ensure mergers are the result of "bottom-up" decisions rather than "top-down" imposition by the Welsh Government. Some reduction in council numbers "may be appropriate" but UKIP opposes Labour's eight or nine authority model.
---
Anything else we should know about?
UKIP would support the integration of fire and rescue services with ambulance response, with fire personnel trained as paramedics.
The manifesto points to France - where such a system is in place and which the party says is among the best in the world.
"This eases the burden on conventional ambulance services, while giving fire professionals an important role during otherwise quiet periods," the manifesto explains.
The party also says it would:
Advocate access to paperwork in the language of your choice, "rather than placing over-emphasis on bi-lingual documents"
Make St. David's Day, or the nearest appropriate weekday, a public bank holiday in Wales
Abolish the heritage body Cadw and devolve its properties to local councils