Nathan Gill a 'third rate general' says Christine Hamilton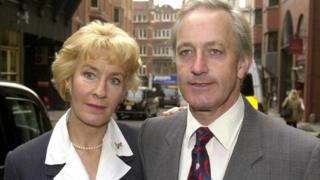 Christine Hamilton has accused UKIP Wales' leader of acting like a "third-rate general" after he said he would "probably not" have chosen her husband as an election candidate.
There have been accusations the selection of Neil Hamilton and fellow ex-Tory MP Mark Reckless as UKIP candidates in Wales was imposed by the party centrally.
On Tuesday, Nathan Gill said he would "probably not" have chosen them.
Mrs Hamilton criticised his revelation.
She tweeted: "Only a 3rd rate General would diss his crack troops on the eve of battle."
On BBC Wales' Ask the Leader programme, Mr Gill said: "Would I have allowed people to come in over our hardworking Welsh membership?
"Probably not... but it wasn't my decision."
"The members have given us these candidates and therefore I back them."
Mr Gill added: "Of course they've got years of experience.
"Mark Reckless was an MP. He did a very brave thing when he came over to UKIP. We all recognise that. He's a very intelligent and clever man.
"Of course they're an asset."
Opinion polls suggest UKIP are set to win their first ever assembly members when voters go to the polls on 5 May.
But the party has been hit by a succession of rows over candidate selection.
Mr Hamilton is UKIP's lead candidate in the Mid and West Wales region, while Mr Reckless is the lead candidate in South Wales East.
Mr Gill holds the same position on the North Wales list.