Holyrood 2016: Orkney declares first result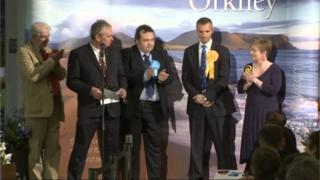 Orkney was the first constituency to declare in the Scottish Parliament election, with the Liberal Democrats holding the seat.
Liam McArthur was re-elected with 67% of the vote.
The Liberal Democrats have held the constituency since the Scottish Parliament was formed in 1999.
The turnout was up by 12.3% from 49.7% in 2011 to 62%. The Orkney result had been expected between 01:30 and 02:30, but was declared at 00:46.
Rutherglen was the second constituency to declare at 00:56.
The SNP's Clare Haughey took the seat from Labour, which it had held since 2011.
Janis Hughes originally won the seat for the Labour Party in the 1999 and 2003 elections. James Kelly then held the seat in 2007 and 2011.
Counting is taking place across Scotland to find out who will fill the 129 seats at Holyrood.
The final result is expected at about 08:00, although this could be later if counts are delayed or recounts held.
---
Follow the results on the BBC
BBC Scotland is delivering comprehensive election results coverage across online, TV and radio.
Full details of the BBC's coverage can be found here.