At a glance: Solidarity manifesto for the Holyrood election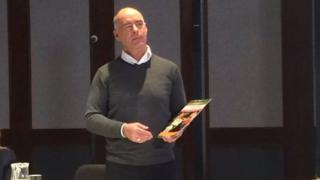 Solidarity has published its manifesto ahead of the Holyrood election on 5 May. Here are some of the key policies from the document.
---
Key points
The manifesto opens by stressing that Solidarity is a socialist party that aims to "promote and embody socialist ideals and trade union rights in every walk of life".
The party says it stands for equality and a "radical redistribution of wealth and power from the elite 1% to the majority 99%".
And it says Solidarity sees Scottish independence as the start of a journey to transform Scotland into a "fairer, more prosperous and nuclear weapon free country that wages war on inequality and poverty, not other nations across the world."
The manifesto also points out that the party is only fielding candidates in the eight regional lists, urging voters to use their constituency vote to back another "pro-independence, anti-austerity and anti-nuclear-weapon party".
But while acknowledging that the party will not form the next Scottish government, it says its aim is to secure 5-6% of the list votes in order to secure the election of Solidarity MSPs in all of the electoral regions
---
Independence
Solidarity says it does not accept that the result of the independence referendum in 2014 was the "settled will of the Scottish people" as voters had been "subjected to a tsunami of lies, bullying, distortions and dangerously biased media reporting" during the campaign.
The party says its MSPs would table a bill at Holyrood within three months of the election in order to facilitate a second independence referendum in 2018.
Solidarity says it is "absolutely confident" that the referendum could be won with more than 60% support for independence.
And it argues that the necessary negotiations could then be completed in time to allow 6 April 2020 to be the day Scotland "once again becomes a free and sovereign nation", exactly 700 years after the historic Declaration of Arbroath.
---
Austerity
Solidarity says its MSPs would seek to organise "coordinated resistance to further Tory austerity cuts" in Scotland.
It also wants:
Holyrood to form an alliance with councils, trade unions and community groups to implement "no-cuts budgets" to save jobs and essential services from the "Tory butchers"
Holyrood to be prepared to "go to war with Westminster to demand back the billions stolen from our budget to feed tax cuts for the billionaires and tax evasion for the corporations"
Scotland to "stand up as one" against Westminster-imposed cuts
---
Fracking and nuclear weapons
Solidarity says its MSPs would introduce a bill at Holyrood to completely ban fracking, which it considers to be "environmentally unsafe and destructive".
It calls for concerted investment in publicly-owned wind, wave and solar energy production.
The party also wants Holyrood to "withdraw permission" to use our Scotland's roads, land and waters for the continued storage and presence of the "immoral, illegal and economically wasteful" Trident nuclear submarine fleet.
It opposes the renewal of the nuclear weapons system, and wants the money that would be saved to be invested in house building and other public construction jobs.
---
Economy and taxation
Solidarity wants to introduce a living wage of £10 an hour, which would be an entitlement for all workers, including full-time carers.
It also wants to:
Replace the "unfair" council tax with a Scottish Service Tax, which would be based on income and see the wealthiest pay much more than those on lower incomes
Cancel all Private Finance Initiative and Public Private Partnership contracts
Ensure every company bidding for a publicly-funded or part-funded contract complies with clearly stated Ethical Employment practices
Start a public house building programme to deliver a minimum of 20,000 homes a year over the next five years to tackle homelessness and overcrowding and create jobs
---
Health
Solidarity's key policies in this area include:
creating a publicly-owned pharmaceutical company in Scotland to supply the NHS with the drugs and medicines it requires
the legalisation and taxation of cannabis, with the revenues raised being devoted to tackling health and addiction problems
drug use to be treated as a social and medical problem, not a crime
massive investment in drug treatment and rehabilitation programmes
---
Education
Solidarity believes poverty and inequality are the root causes of the educational attainment gap across Scotland, and wants every child to be given the opportunity to realise their inherent talents regardless of wealth and background.
Its manifesto calls for:
class sizes to be capped at 20, with sufficient teachers to be recruitment to allow the policy to be implemented
university education to remain free
the re-introduction of living grants to provide financial support to those students unable to rely on parental support
the reversal of cuts in funding for colleges
the democratisation of college boards based on trade union and student involvement
full support of the Time for Inclusive Education campaign as an essential aid in confronting, challenging and combating homophobic bullying in schools
---
Other policies
Among Solidarity's other key policies are:
supporting the campaign for the UK to leave the EU, which the party argues "serves the interests of the rich and big business and delivers their wealth"
scrap the Offensive Behaviour at Football Act
the establishment of a Senior Citizens Minister at Holyrood
opposition to the "overly intrusive" Named Person scheme
a Democracy Renewal Bill that would force by-elections if 5% of the electorate sign an online petition when an MSP is found to have "fundamentally reneged on a promise given to the electorate prior to election"