Holyrood 2016: Parties focus on climate and land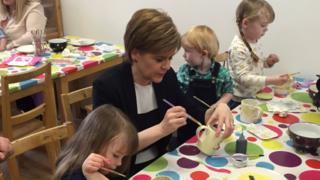 Scottish parties are campaigning on issues of climate change and the environment as the race for Holyrood continues.
The SNP have set out plans for tougher targets on climate change.
Labour is calling for a ban on fracking, while the Tories want to give councils the power to bring in moratoriums on wind farms and fracking.
The Lib Dems say they want to plug the "black hole" in Scotland's rural economy.
'On track'
SNP leader Nicola Sturgeon has pledged to raise Scotland's 2020 climate change target to a 50% cut in greenhouse gas emissions.
The new target would be contained in a Climate Change Bill if the party is returned to government at the 5 May election.
The Scottish government has missed its interim emissions targets for the last four years.
The SNP's Aileen McLeod said: "It has not always been easy but Scotland has been a genuine world leader in the area of climate change and green energy, and the latest evidence shows that we are on track to exceed our 42% target."
Ms Sturgeon also set out plans for "baby boxes", kits which would be sent out to all new parents in Scotland to help give new mothers and their babies the best possible start.
Scottish Labour leader Kezia Dugdale addressed the Scottish Trade Union Congress (STUC) conference in Dundee, saying she would "use the powers" of Holyrood to end austerity.
She said: "I reject the economic model that says the only way to grow is to cut your taxes and your tax base.
"We choose to build an economy on higher skills, higher wages and higher productivity because there is no future in low wages and low skills.
"Investing in education and skills is not a social expense. It is an economic investment. Good work and a good society need common investment."
'Tougher target'
Ms Dugdale has also outlined her plans for a greener Scotland, including:
A ban on fracking
A Warm Homes Act to update regulations to tackle fuel poverty by driving up energy and insulation standards
Cancelling the SNP's plan to cut air passenger duty
Labour said climate change was the great challenge for this generation.
Ms Dugdale added: "The SNP's approach to climate change is similar to its whole approach to government - set a target, miss it and then set an even tougher target in the hope nobody notices."
Scottish Conservative leader Ruth Davidson told the BBC her party would give local authorities the power to enforce a moratorium on wind farms and fracking.
Ms Davidson has also accused the SNP "burying bad news" at election time to avoid fresh questions over its house buying tax.
She said that unlike in 11 previous months, the Scottish government has failed to produce new figures at the end of last month on the sums collected by Land and Buildings Transaction Tax.
The SNP dismissed this as a "fabrication", insisting that revenues from the tax were actually exceeding forecasts and that publication was not behind schedule.
The Scottish Tory leader also underlined her support for Trident, accusing Labour of being "in a complete mess" over the issue of whether to renew the UK's nuclear weapons system. She said the Tories would "make the case for preserving Britain's security and for protecting thousands of Scottish jobs".
'Black hole'
Meanwhile, Scottish Lib Dem leader Willie Rennie aimed to put pressure on the Scottish government to "plug the black hole in Scotland's rural economy" while visiting a Cupar farm.
Mr Rennie said: "The SNP has failed spectacularly to support people living and working in Scotland's rural and remote areas.
"That's why Liberal Democrats in our manifesto have set out plans for immediate restitution payments for farmers who have lost out.
"They cannot be expected to pay for the SNP's shambolic handling of CAP payments."
The issue of climate change will also on the agenda at the STUC annual gathering in Dundee, where trade unions will call for strong action and support for workers affected by a switch to a low-carbon economy.
General Secretary Grahame Smith is expected to use his speech to call for "bold and ambitious" policies from all the political parties seeking power at Holyrood.
He will also warn that taking advantage of new devolved responsibilities over income tax and welfare cannot happen overnight.