Holyrood 2016: Parties set out mental health plans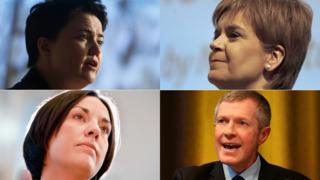 Politicians have been setting out their plans to boost mental health services ahead of the Holyrood election.
SNP leader Nicola Sturgeon pledged to "transform" mental health care in Scotland if her party is re-elected.
The Liberal Democrats said they would introduce a mental health "rapid reaction force".
Meanwhile, the Tories claimed Labour was in a "state of civil war", and Labour accused the SNP of "hypocrisy" over council budget cuts.
Ms Sturgeon said she would spend at least £150m over the next five years to improve the support available for people facing mental health challenges if her party wins the election.
She said this would include support for mental health link workers in GP practices and ensure the "ask once, get help fast" principle for anyone with mental health concerns is in place across Scotland by 2020.
Ms Sturgeon said an SNP government would also ensure mental and physical health were treated with parity, and that Scotland's new social security agency takes account of mental health.
She said: "We have made great strides in mental health care under the SNP. We have increased funding by 40% since 2006, doubled the number of child psychology posts and have recently announced a £50m investment to improve waiting times for treatment.
"But demand is also increasing and we must take action over the next parliament to improve mental health care in our communities, to support people living with mental health challenges and in particular to help our young people who may face mental health issues."
The Scottish Liberal Democrats said they would introduce a mental health "rapid reaction force", providing full-time 24/7 cover in police divisions and A&E departments, as part of a "revolution" in the way mental health problems were treated.
'Rapid care'
Under the plans, mental health staff would be deployed to police custody centres and work with police officers in "joint cars" to provide emergency care.
Leader Willie Rennie said: "Introducing full-time, 24/7 mental health support in our A&E departments would help ensure people get the rapid care they need and end long waits for overstretched specialist teams to arrive.
"We also know that the police are often the first emergency service to arrive when someone is experiencing a mental health crisis.
"Cutting the time it takes for people to receive specialist support makes a huge difference and joint cars have been hugely successful in other parts of the country."
Meanwhile, Scottish Conservative leader Ruth Davidson continued to attack Labour leader Kezia Dugdale's position on independence.
She highlighted comments from former Scottish Labour MP Tom Harris, who told the Scottish Mail on Sunday the party's Unionist message "looks like it is being watered down".
'Utmost importance'
Ms Dugdale was forced to clarify her stance after she said in an interview "it's not inconceivable" that she could support a future "Yes" vote if the UK leaves the EU.
Ms Davidson said: "With less than five weeks to go until the election, Kezia Dugdale's position on Scotland's place in the UK has never been weaker.
"It's no wonder civil war is breaking out in the party - this is an issue that is of utmost importance and the Labour leader can't seem to make up her mind."
Elsewhere, Ms Dugdale contrasted Ms Sturgeon's anti-austerity platform in last year's UK-wide general election TV debate with the SNP's recent budget, which she said had cut hundreds of millions of pounds from funding for schools and local services.
Labour has proposed to use the new powers coming to the Scottish Parliament to invest in education by raising income tax by 1p and introducing a 50p top rate of tax on those earning more than £150,000.
Ms Dugdale said: "This time last year Nicola Sturgeon said she was the champion of the anti-austerity cause across the UK.
"The first minister made her name calling for an end to the cuts and higher taxes for the richest few, yet one year on she refuses to stop the cuts and won't ask the wealthiest to pay their fair share.
"Nobody watching last year's TV debates could ever have imagined that today Nicola Sturgeon would be lining up beside the Scottish Tories to argue against stopping the cuts and fairer taxes for the richest few."