Round-up: The first 2016 Scottish Leaders' Debate
As campaigning for the 2016 Scottish Parliament election gets under way, BBC Scotland hosted the first leaders' debate at our Glasgow headquarters. Here's a round-up of what happened.
The panel
Partrick Harvie: Scottish Greens co-convenor.
Ruth Davidson: Scottish Conservative leader.
Kezia Dugdale: Scottish Labour leader.
Nicola Sturgeon: SNP leader.
Willie Rennie: Scottish Liberal Democrat leader.
David Coburn: UKIP Scotland leader.
The questions
1. In what way will the panellists use tax raising powers to improve the lives of Scottish people?
2. What will your party to do to mitigate the upcoming changes in the welfare system?
3. How are you going to improve education funding for young people from deprived areas.
4. When push comes to shove do you support fracking or not?
5. If you get the call from President-elect Donald Trump what would your opening line be?
The arguments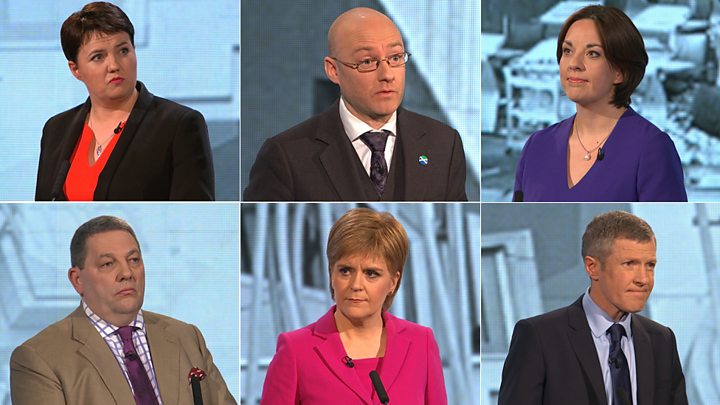 The squabbling kicked off after only the first question which focused on tax. Nicola Sturgeon and Kezia Dugdale wasted no time in going head-to-head. The Labour leader said she would ask the rich to pay more. Ms Sturgeon insisted her rival explain how Labour was going to protect low earners. Viewers at home are not really aware that there's anyone else on the panel at this point.
However, Lib Dem Willie Rennie did manage to get a word in, and turned the question to Scotland's schools - saying extra tax on education would help "to get the economy working again". What he doesn't know is that there's another question on education coming up later.
Debra Torrance's next question on welfare was a tricky one for David Coburn. He used his time to talk about the NHS, and the NHS again. There was a rare moment of consensus among the rest of the leaders who jointly suggested UKIP didn't have a policy on welfare powers.
When education surfaced again, Mr Rennie spoke about "transformational investment", Ms Dugdale focused on "closing the gap" - attainment gap that is, Ms Sturgeon spoke about "expansion of childcare", Scottish Conservative leader Ruth Davidson backed headteacher power, Mr Coburn spoke up for grammar schools (long gone from Scotland), and Patrick Harvie talked about that attainment gap again. Safe to say, they all think education is pretty important.
On the fracking question, BBC host Glenn Campbell quizzed Mr Rennie on internal Lib Dem disagreement over the issue. He made clear he was in charge and his party opposed fracking, so that's that. Partick Harvie admitted the Scottish Greens aren't at all keen on it either.
The night finished with our final "light-hearted" question on US presidential-hopeful Donald Trump. (You can watch the video above to see how that went down).
Online reaction
@davidtorrance: Can't believe folk still going on about Allan Glen's - it's like Michael Forsyth is still Secretary of State #LeadersDebate
@BraidenHT: Shouty MacShoutface #LeadersDebate
@JamieRoss7: I'm watching the debate right now. I bet they cut out the bit when Willie Rennie chokeslammed David Coburn.
@andrewpicken1: Did Coburn just say dandelions? #LeadersDebate
@BBCPhilipSim: I suppose it's nice that #LeadersDebate ends with a united note of vague disdain for Donald Trump...until he has his finger on the button...
If you missed the Scottish Leaders' Debate from Glasgow, you can watch it in full on BBC iPlayer.