Who are BBC Generation 2016 in Scotland?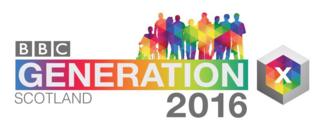 Fifty young people have been selected to take part the BBC Generation 2016 project ahead of the Scottish Parliament elections on 5 May.
They represent a cross-section of 16 to 25-year-olds in Scotland, and will be involved in debates and discussions in BBC coverage of the election.
These youngsters are from a diverse range of backgrounds and communities.
They'll appear across BBC output to talk about issues that affect them, or more broadly about their lives in 2016.
Here you'll find the whole group, introducing themselves to the nation in their own words.
Join the conversation with @BBCGen2016 and find out more at bbc.co.uk/generation2016.
Laura Baillie, 23, Glasgow
I'm studying sociology and politics at university where I am the women's officer. I have a form of mental ill health called a personality disorder. I am a lesbian, and I live with my girlfriend. I am a feminist, and I do my best to support women. I am also involved with anarchist-communist organising as I believe that direct action achieves more than marches, and that reforms within capitalism will never end poverty as the class system is inherent within capitalism.
Megan Bain, 23, Edinburgh
I've been really interested in politics since an early age. My parents taught me about the importance about what is going on in the political world as it affects everything we do. At the moment I am volunteering as an advocate with a mental health charity based in a local psychiatric hospital after having to drop out of university due to my mental health. It's interesting hearing about patients' views on politics as although they don't have a loud voice, they are often the ones affected most by politics.
My main concerns are about NHS funding, specifically mental health funding as many of the parties have jumped on the mental health bandwagon so it will be interesting to see what actually happens.
Kirsty Barr, 17, East Ayrshire
I have always been interested in politics, brought up with frequent debates over the dinner table. I work with young people, teaching music, and I hope to go to university to study social anthropology. I am a campaigner for equality. I pushed for the creation of an LGBT+ group in my school and I'm being trained to deliver workshops to school about the LGBT+ community. There needs to be a broader education within schools - specifically with sex education in relation to LGBT+ students.
In my opinion, the current government needs a shakeup. Younger people have become disengaged from politics and are drastically underrepresented. I feel that the country needs a politician that everyday people can relate to, who knows the struggles people go through and can inspire people to become engaged not only in politics but in their communities.
Tuesday Berry, 24, Glasgow
I am studying film and media at the University of Stirling and hope to work in the creative industries one day. I like to keep busy being involved in lots of activities such as Scouts, the Duke of Edinburgh's Award and Haggeye, a campaign project for blind and partially sighted young people. I enjoy getting involved in and having my say on changes which affect me and think it is important for everyone to have a voice.
Hakim Boulestin, 20, Aberdeen
I am studying physiology at the University of Aberdeen. My main political interests revolve around issues surrounding working class matters and general perceived social inequalities. These form my background and are what shape my opinions and core beliefs.
James Bundy, 19, Falkirk
I'm a first year at the University of St Andrews reading economics and international relations. Outside of university and politics, I play the bagpipes for Denny and Dunipace Pipe Band. I also have a great interest in sports, especially football.
Megan Dale, 18, Edinburgh
I am in my first year at the University of Edinburgh, studying a joint honours degree in history and Celtic. Growing up in Ross-Shire in the Highlands of Scotland, and as a fiddle player, a highland dancer and a Gaelic speaker, I am keen to keep hold of Scottish culture, particularly the Gaelic language. Having gone through Gaelic-medium education, I feel I have benefitted greatly from this style of education that is available to all in Scotland. I wish people throughout the UK could receive similar opportunities that are so easy to make use of. By giving more people the chance to get ahead in life, I believe we can create a fairer and a more equal society that would be of benefit to all.
Joseph Daly, 16, Glasgow
I've been interested in politics above virtually all else for several years now. I've managed to do a lot of things to pursue my interest already - I managed to attend Prime Minister's Questions a few years back, and more recently I did work experience in the House of Commons. I find that politics seeps into my various other interests as well - for example, I've been trying to figure out for months how to create a Holyrood parliamentary seat calculator.
Looking at various documentaries and mulling over people's thoughts on Twitter has likely impacted my political opinions most, but with much of my family being doctors, I've been hugely influenced on health policy as well.
Hayley Dansey, 22, Edinburgh
I am a newly qualified midwife. I love hill walking, dogs, craft beer, and Taylor Swift. I have recently concluded that I am not actually that political, more just highly opinionated. One day I hope to work more closely with empowering women and improving their lives all over the world. After spending some time in Africa, my goal is promote equality, education and safe health care to women were opportunities are limited.
Hanna Dearie, 16, Cumnock
I am studying for my highers and in May I will sit exams in English, maths, German, modern studies and graphic communications. I am planning to stay on in school to complete a sixth year and afterwards I hope to go to university to study law and politics or mathematics. Growing up in a deprived area has had significant influence on my opinions both politically and non-politically. I can see the downward spiral and the breakdown of communities caused by lack of job opportunity and prosperity in the area and I feel this is caused by regeneration projects being concentrated in large urban areas rather than smaller towns facing real deprivation. I hope the next government puts the social welfare of the population first.
Stewart Doran, 19, Glasgow
I study social sciences at Glasgow Caledonian University but would like to have an influence in politics at some stage in life. Throughout the UK we see poverty and corruption on a mass scale, and not a lot seems to be done about it. This is why I think voters are becoming disengaged with politics completely. Voters young and old are turning away from decision-making that overwhelmingly influences their lives. Over the past year or so we have seen referendums and elections that have attracted many millions as I believe people are tired with establishment politics and politicians. I would love to see democracy continue to thrive in the way it has in the past few months.
Callum Duffy, 17, Dundee
I'm in my final year at secondary school, and am going on to university in September to study politics, international relations and French. My hobbies include listening to music (a wide variety of genres), playing the violin, cinema and I am fascinated by aviation! Politics has always interested me because I see it as a way by which people's lives and larger society can be improved. However, I don't believe that this is happening at the moment.
My opinions and thoughts are to a certain extent shaped by what I see and hear on television news and current affairs programmes, and also by healthy debate with my peers. I have also had first-hand experience of local, national and international politics through work experience in a local constituency office.
Jamie-Lee Efomi, 16, Glasgow
I was born in DR Congo but moved to Glasgow at the age of three as an asylum-seeker and now call Scotland my home. I am a very bubbly and happy person who loves to interact and socialise with people. My family have been involved in international politics and my father has many strong opinions on political matters. His views and political interests have, in a way, rubbed off on me as I have grown up - however, I still having my own opinions and views. Living in Glasgow, where there are so many different races and religions, also gives me an open mind. The First Minister, Nicola Sturgeon, is my school's local MSP, which means I have met her a few times.
Peter Egan, 20, Elgin
I was born in Worcester and moved to Scotland when I was nine. I have also lived for some time in the USA. At present I am a bar manager in an eco community in Scotland called Findhorn. I have a great interest in politics and I consider myself to be rather left wing. 
Alyssa Faulkner, 17, Kilwinning
I have type 1 diabetes, which I don't let hold be back but which has shaped my personality and given me a lot of opportunities. I am aspiring to be an adult nurse so I can help people the way my nurses have helped me. I am passionate about music. I play classical guitar, am part of a choir and my school's show, and love listening to classical music. I also play netball for my local ladies team, which is very rewarding.
Catriona Ferguson, 19, Perth
I'm a floating voter and on the run up to elections I try to research the different parties and their policies as much as possible. Recently, it's mainly the parties' economic policies that sway my opinion on them, as I believe it to be one of the most important things.
Joanne Ferguson, 18, Glasgow
I'm a first year English literature student at Glasgow University. I have developed my political philosophy by being involved in Glasgow University Union Debating and arguing with other debaters. I have come to the conclusion that above all else I value choice. However, what makes me not a libertarian is that I believe the state has a role to play in helping people make the most of the freedoms they have. I am ecstatic about being able to vote in this election, because voting to stay part of a country and then being told you're not old enough to vote for that country's government is infuriating.
Laura Hart, 17, Glasgow
I live in Govan, my interests are going to the cinema, going out for dinner, visiting family and friends and going to college where I study social sciences. My favourite part of it is psychology.
Alec Henry, 16, Shetland
I am from one of the most rural places to live in Scotland. I am in S4 in Anderson High School and it will be my first time voting in an election. I started to become more interested in politics between the ages of 12 and 14 and I tried to learn more about it. Ever since the Scottish independence referendum I have been hooked into politics. I believe that Scotland should be an independent country that has the right to self-determination but I do always look at political matters from a level perspective while listening to all of the different parties' views.
Hannah Hobson, 19, Glasgow
I am studying music at West College Scotland in Greenock.  I'm looking forward to starting first year at Aberdeen University in September. Although my main focus is my music I have a strong passion for politics and enjoy debating current issues and events.  I've been fortunate to live a fairly settled home life but have had experience of social injustices and have seen firsthand how lack of employment and a lack of compassion can very quickly affect a person's wellbeing and sense of importance.
I believe that we all have an important part to play in society and issues close to my heart include: the NHS, the plight of the Syrian people, lack of funding in education and the inequality of the sexes.
Keith Hutchinson, 18, Glasgow
I like making short films and taking pictures. My hobbies are going out with friends and going to the cinema. I want to become a director in the future. I live on my own. I love movies and like meeting new people.
Andrew Jarvie, 23, Highlands
I'm a politics and sociology student from the Scottish Highlands. I've been all over the political spectrum, however my previous political allegiances had been for the wrong reasons. Life events have strongly shaped my views, whether it be starting my own business or becoming a wheelchair user. Having proven my views wrong to myself, I came to realise there is no room for idealism any more and frequently decisions have to be made because they are the least worst option available at the time as populist polices often cause unseen harm. It was at this point where I realised that despite opinions of others, having the facts behind you is the only way politics can work.
Matt Kaminski, 21, St Andrews
I'm a Polish-American, non-UK citizen, and have lived my entire life in this beautiful country. Scotland is my home.
I've been studying geology at St Andrews for three and a half years. Reading about past climate change events, and low oil price, leads me to believe Scotland should be a world leader in green technologies. I unfortunately suffer from anxiety and depression, and support for mental health is a great issue to me, something Scotland could do better. I find modern history fascinating; learning of Poland's struggle over the past 200 years to gain autonomy and rekindle its democracy made me interested in politics. Everyone - absolutely everyone - should have a say in how their country is run. I can't vote in general elections or in the forthcoming EU referendum: it is an unjust inequality, and I believe modern society is rife with inequality, a problem that must be tackled.
Louis King, 16, Kirkcaldy
I'm a political activist from Fife, Scotland. I first got involved in politics in late 2014 when I stood for the Scottish Youth Parliament. I campaigned hard in my home constituency throughout the general election campaign. When not talking about politics (which is hardly ever), I'm taking part in my roles as a director of our local Youth Arts Hub, and a member of Kirkcaldy Youth Action.
Samara King, 17, Glenrothes
I live with my mother, who I care for, and my younger sister. I am currently studying for my HNC in care and administrative practice and I thoroughly enjoy my work placement. My sister is soon to sit her exams and I take a keen interest in her education. I am looking to progress on to a university to study midwifery in September, to further my education and lead to a career in the health care sector. I moved house a year ago and have worked very hard to get to where I am. I studied modern studies so thoroughly enjoy debates and have done public speaking with Fife Young Carers Focus Group.
Molly Kirby, 17, East Kilbride
I'm in sixth year at school and in September I'll be going to university to study international relations and politics. In 2015 I became a member of the Scottish Youth Parliament as one of the first representatives for Scouts Scotland, an organisation I have been part of for over 10 years. So far the experience has been great and I love representing Scouts. Being part of such a huge international organisation brings lots of opportunities. In 2015 I went to Japan for three weeks for the 23rd World Scout Jamboree. For part of the trip, I lived with a Japanese family in the city of Yokohama which was an unforgettable experience.
Mental health services and youth work are important to me and my main political influences are my family, current events and the media.
Emma Kok, 16, Tarbert
When I was seven years old my family sailed over from the Netherlands and we decided to stay in Scotland. I play several instruments: piano, guitar, bass guitar, double bass and cello. I am a member of Na Seudan Ùr, a folk band that performs both Gaelic and Scots music in a funky, jazzy way. We began performing and entering contests in 2009, when I was nine. Na Seudan Ùr has been very successful, winning the National Mod and producing a CD that has sold worldwide.
My other interests are writing, filming and photography. This started when I was very young; I used to make short films with my dogs as the main characters. I work for Argyll Youth Arts as a channel manager, producing films promoting and showcasing youth arts in my area, with support from a group of volunteer filmmakersFh. I'm also busy with my Highers.
Rachel MacKay, 20, Skye
I hail from the Isle of Lewis in the Western Isles of Scotland. I currently study Gaelic media in the Isle of Skye. I am fortunate to be a native Gaelic speaker, and Gaelic culture has always been important to me. Politically, I value the importance of education and more investment into young people, in particular apprenticeship and traineeship schemes. I also have concerns about the environment, and believe in gender equality.
Stuart Main, 19, Perth
I'm a 19-year-old bi guy, who lives in Perth, is from Dunfermline but was born in England. I'd like to say I was apolitical, but I have voted a similar way in the elections I've voted in. My views have been influenced a lot by my parents, my Green-supporting mother and socialist father, but I wouldn't say I agree necessarily with either. I'm also interested in our political relations with China, down to my involvement with SCEN, an organisation which promotes learning about China in schools.
Erin McAuley, 18, Irvine
I am a history, politics and professional education student teacher at Stirling University. I'm very active in the political world, a believer in grassroots politics and a young trade unionist. My passion is rooted in my personal experiences, which include homelessness, poverty, living with family members who suffer from mental illness and addiction and how education has transformed and saved my life.
I am passionate about young people; education; ending stigmas towards mental health and homelessness; challenging sexist attitudes and bullying; and about my community. I've been on a very active, unusual and emotional political journey at just 18, with being surrounded by many known politicians and leaving a party to join another just this year. I always believe that you should stand up for your values, even if that means standing alone.
Fi McIntosh, 23, Dundee
I spent four years studying economic and social history at Glasgow Uni which I loved and which gave me a good basis of understanding about the history of British politics and the formation of the European Union etc. However I have never been particularly politically active and certainly don't spend my free time researching different arguments and canvassing my local neighbourhood! I'm most passionate about equality between the genders and ages, and fairness in the world of work.
Kyle Michie, 16, Aberdeen
I am a member of the Scottish Youth Parliament though in this capacity I am non-party political. My interest in politics first began two years ago when I joined the Aberdeenshire Youth Council and I realised that young people have the power to make a difference in their future. I think we should encourage investment in renewable energy and ensure that the future of the north east is not reliant on the oil price. I believe we should scrap the trident programme and use the money to invest in the infrastructure of Scotland's cities and schools.
Ismail Mohammad, 16, Cumbernauld
I applied for BBC Generation as I felt that my community was not acknowledged very much in any political affairs. By applying and being accepted I feel now that I can be apart of the beginning of publicising my community's opinion. My personal opinions on different topics vary depending on the relevance today and how it is affecting the world. I take everyone into account in my opinion and how it would benefit everyone including myself. I also believe the way my parents raised me to be the mature and educated individual that I am really is a factor in how I think of certain topics and I sometimes agree or disagree with what my parents think.
Amie Morrison, 16, Cupar
As a young carer (my brother has autism), I'm passionate about ensuring that options and services are provided for those with disabilities and their families. The lack of services available in Scotland has greatly affected my family. I volunteer with a community organisation that helps young adults with PMLD (profound and multiple learning disabilities). I care about education and I think it is very important, so I'm in favour of free university tuition. I hope to study history at university, but I also love politics, philosophy and music. My views tend to be left wing.
Although I was against an independent Scotland, I have begun to reconsider as I'm frustrated with the current government. I sometimes find that it is difficult to find information on current issues, such as the EU and the NHS, and I think that more awareness should be raised among young voters.
Panashe Muzambe, 20, Edinburgh
I am a second year sport and exercise student at Edinburgh Napier University. I am an MSYP for Edinburgh Pentlands. I stood for this post not because I am big on politics but because I am interested in representing the view of others and influencing policies. In the Scottish Youth Parliament I am also the convenor for the sport and leisure committee. This allows me to work closely with like-minded people who are passionate about sport.
I have been given the amazing opportunity to be one of the young ambassadors for the 2018 European Championships which I am very excited about. I enjoy the competitive and social aspect of sport. I have been playing basketball and rugby for the women's Napier team. I am also a member of Edinburgh Judo Club. Just as much as I love playing I also enjoy coaching. 
Benjamin Nisbet, 20, Edinburgh
I'm studying towards an undergraduate MA in philosophy at the University of Edinburgh. I regularly work with young people from areas of the city with typically high amounts of social and economic inequality as part of the Children's Holiday Venture. I also work part-time at White Stuff in the city centre. Having a younger brother with Down Syndrome, I have always been involved with different inclusion initiatives in various different capacities.
Growing up, I've had a strong connection with music. I've played as part of ensembles as well as working for various different arts groups. I write a music blog that discusses live music of all descriptions. As a Christian, my faith has deeply impacted my understanding of the world around me and has encouraged me to take on challenges such as humanitarian aid trips to Honduras.
Krzysztof Pukacz, 17, Glasgow
I was born in Poland but moved to Scotland when I was six. I got into politics during the 2014 independence referendum. My top political issues in this election are education and housing, as they are two sections of society which have been neglected under the current governments. I am in high school, and will finish my Highers next year.
Isabel Remers, 16, Dundee
I'm a fifth year high school student from Dundee. I'm a floating voter and like many other young people I support parties depending on specific policies, although I avoid the far-right, always. The international side of things fascinates me. I can't help but love debating and discussing current foreign affairs. This doesn't mean I'm not interested in UK and local politics, I really do like to see how who we support affects us on a daily basis. I'm influenced by family, but I'm always ready to argue against them, and what I learn at school and from the news, but not so much that it will drastically change my own opinions without good reason. Aside from politics I'm a very chatty person who loves to play sports and run.
Brooke Ritchie, 16, Prestonpans
I am currently in S5 at Preston Lodge High School and I am a first-time voter. I have always been interested in politics and particularly the impact it has on people's lives. In recent years I have become very interested in the impact of education on young people and their future opportunities. Coming from a state school that has recently improved but still needs work, I have experienced many changes. This has led me become passionate about the matters of widening participation and equal opportunities for all. Due to recent circumstances I have had many dealings with the NHS; this has led me to strongly support the NHS and keeping it in public hands. Furthermore, my Christian faith helps shape my opinions on these matters.
Theo Scott, 21, Edinburgh
I am in my final year at Edinburgh University studying computer science and electronics, and when I graduate I hope to become a digital hardware engineer. I have a keen interest in technology, and how it can improve the lives of people. In my free time I enjoy football, reading, and keeping up with current affairs.
I became interested in politics accidentally, pulled in by the Scottish independence referendum. I have always considered myself to be a liberal, believing that freedom is the most important value for individuals and society to hold. I believe that a liberal society is the most desirable for young people, as it allows us to choose our own path in life and not be shackled by the circumstances of our birth. My hope is that the next Scottish Parliament will be about fixing our country's problems and not continuing our obsession with the constitution.
Jamie Shaw, 16, Calderhead
I love films and music more than anything else, with my favourite director being Martin Scorsese. I play piano and I like to build computers in my spare time (when I have the cash!). When I finish school, I'd like to go on to study software engineering. I am in my fifth year at Calderhead High School in Shotts, where I am a "violence reduction mentor". This means I talk to pupils in lower years, to give them advice and support about bullying, issues around consent, and other sensitive subjects.
Natasha Simmonds, 18, Scottish Borders
I live in a tiny village in the Scottish Borders, and I lived in England until I was three. I'm currently taking a gap year before going to study psychology, sociology and politics at university. I spent January travelling in New Zealand and I am planning to go to America to travel and work at a summer camp. I feel very passionately about feminism and human and animal rights. I have always enjoyed singing and acting - music is a big influence for me, as are my family and friends.
I am considering a few career choices, including psychologist, but what I would most like to do is be a personal and social education teacher/guidance teacher. I think it is important that children have a positive role model and are taught about topics such as mental illness, drugs, sex and bullying.
Sarah Simpson, 18, Renfrewshire
I am studying multimedia journalism at university and I am thoroughly enjoying my course even though it requires a lot of hard work. I became interested in politics through modern studies at school. It was one of my favourite subjects and I feel it is what pushed me to look at journalism as a career. I work part-time at the gym on my university campus. I enjoy working there and am one of those strange people who like to be kept busy.
After training in martial arts for 11 years I spend my Saturday mornings coaching children aged four to 14 and, despite how stressful it can be, it is also extremely rewarding. Music is another passion; nothing beats the rush of seeing one of your favourite bands live.
Connor Smith, 17, Dumfries and Galloway
I am taking my A levels and hoping to study chemistry or teaching. I enjoy gaming and I am open to trying new things. I have always been interested in science and politics. This is mainly due to both of the subjects having such large fields of study and each can be looked into in such depth. My opinions in politics are very free-form and gathered from mainly the internet and newspapers, which I read daily. Overall, I would say I am a floating voter who votes on the facts, not the emotion.
Alastair Spray, 22, Dunblane
I'm a final year undergraduate student at Aberdeen University studying international relations and Hispanic studies. I call home Dunblane where I went to school and my family still live, however I've been fortunate enough to travel the world a bit and I like to think I have made a few other homes (including Honduras, El Salvador and Sevilla).
I am very interested in domestic and international politics, international development and aid, patterns of migration, and issues in Central America. Personally I would identify as somewhere on the left of the political spectrum, though currently a bit disenfranchised from the parties and leaders on offer.
There are so many things which shape and influence my opinions, but right now I'd rank environmental change and humanitarian issues as the two areas of policy I care most about.
Isla Whateley, 19, Edinburgh
I'm a student at the University of Edinburgh, studying geography and social anthropology. A large part of my free time is spent volunteering with Girlguiding (I lead a Brownie group) and getting angry about social injustice. My views are wholly shaped by the activism and research I've done with Girlguiding, on gender-related inequality issues, and also from my own life - I grew up in a single-parent household in Glasgow. I proudly identify as a feminist and have done for a number of years, and this has really shaped my worldview and politics.
Becky Wilkieson, 16, Gigha
I live on a small island called Gigha, situated off the west coast of Scotland. My involvement in politics before now is limited and I am trying to understand as much as I can, particularly with the Holyrood elections and European referendum looming. I think people my age felt their voices weren't heard, and there is an excitement that we have been given this opportunity to vote at 16. However, there still seems to be a real lack of information regarding politics within the curriculum. Votes of younger people are important; they will help to shape the future of Scotland, and Great Britain.
I am particularly passionate about education within Scotland; it is evident that many children are held back due to lack of choices. This is important, these children could potentially change Scotland, given the opportunity.
Catherine Wilson, 20, Deeside
I'm a third year philosophy and literature student at the University of Edinburgh. I'm young, female, Scottish and Christian, which I think have really influenced my political and social views, having voted yes in the referendum. When not studying, my "job" (which does require quotation marks, jobs are usually supposed to pay more!) is that I work as a performance poet, both organising and performing at events across Scotland. I help organise Soapbox, the University of Edinburgh's fortnightly open mic, the most regular slam in the country. I'm also one of the core organisers behind the spoken word collective Loud Poets. Recently I was part of the winning team from Edinburgh University at the national competition UniSlam.
Duncan Wilson, 17, Port Seton
I'm a frequent chess player, a passionate chemist, a steadfast libertarian thinker and an unwavering Eurosceptic. I live in the small, traditional fishing village of Port Seton, East Lothian: nothing is more delightful than than the sight of Scottish sand and sea.
I'm deeply interested in American political history, through which I discovered my political role-model: Barry Goldwater, the shoot from the hip conservative of Arizona. I am a collector of World War II military relics, taking particular interest in artefacts connected to the rise and fall of the Third Reich. I received a certificate for my essay on the EU - The Rape of Europa - in the Scottish Schools' Young Writer of the Year 2016. Whether playing chess, studying chemistry, reading, skating, walking or thinking, freedom guides my conscience.
Skye Woolcott, 19, Glasgow
I recently moved out of my parents' house and into a nice wee house with my boyfriend. I left school when I was 15 and now I work in a call centre for a bank, which is pretty good because I like talking, a lot. I've no idea what I want to do in the future though. I'd like to work with young carers but I can't seem to stick in at college to get there!
I've been a carer for my mum and my brother for my whole life, and I want to raise awareness of carers - in particular young adult carers - as I feel that the government doesn't do nearly enough for us.