NI Assembly election: Sinn Féin questioned over tax rate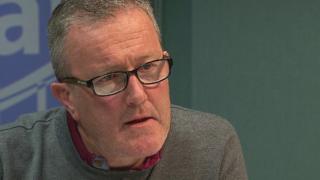 Sinn Féin's Conor Murphy has said he is confident a future NI executive will be able to afford reducing the corporation tax rate to 12.5%.
Under the Fresh Start Agreement, the executive committed to introducing the new rate from April 2018.
On the Nolan show, Mr Murphy was not able to clarify if the cost would be £150m a year, or £150m over four years.
Reducing the corporation tax rate to 12.5% would bring Northern Ireland in line with the Republic of Ireland.
Mr Murphy told the Nolan Show: "No-one knows what it costs, the negotiation's ongoing, we do know that it incrementally drops over the course of the years."
Mr Murphy added that there was not "an exact final figure because those negotiations haven't concluded, we are confident that it is more affordable than even when it was first considered".
When asked for clarification regarding Mr Murphy's comments on corporation tax on Friday morning's Nolan Show, Sinn Féin said the £150m figure was over one year.