NI Assembly election: Seven more SDLP members quit party in West Tyrone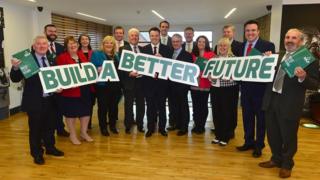 Seven office-holders have quit the SDLP in West Tyrone, as the row over Daniel McCrossan's nomination in the assembly election continues.
The seven include Frank Sweeney, the former chair of the party's constituency council.
Mr Sweeney said there had been a breakdown in trust within the SDLP in West Tyrone.
In a statement, the SDLP said it had experienced "tremendous growth" in the constituency in recent years.
It said Mr McCrossan "and his team in West Tyrone have the full support and confidence of the SDLP".
However, Mr Sweeney said the party leadership had failed to address concerns raised by him and others.
"We've been trying for two years to get the party centrally to intervene and to take action to remedy things," he said.
"Nothing has happened and people feel like they can take no more."
The others who have quit the party are:
Eugene Mullan, former Strabane councillor
Barney McDermott, chair of the Derg branch
Geraldine Mullan, secretary of the Derg branch
Michael Deehan, treasurer of West Tyrone Constituency Association
Bernard McGrath, vice chair of the Mid Tyrone and Omagh branch
Margaret O'Connor, member of party executive for the Fermanagh and Omagh Council
The latest resignations come a week after three councillors quit the party - two of whom, Patsy Kelly and Josephine Deehan, are standing against their former party in next month's election.
On Friday, the party said: "Josephine Deehan refused to engage in the selection process on the two occasions when the party held selection conventions - first to replace Joe Byrne in the assembly and secondly to stand for election.
"Daniel McCrossan was the only person to put his name forward and was therefore was unanimously selected by more than 100 party members."
List of assembly candidates for West Tyrone:
Michaela Boyle, Sinn Féin
Allan Bresland, DUP
Barry Brown, Cannabis Is Safer Than Alcohol
Thomas Buchanan, DUP
Josephine Deehan, Independent
Stephen Donnelly, Alliance Party
Corey French, Independent
Ross Hussey, UUP
Patsy Kelly, Independent
Roger Lomas, Conservative
Declan McAleer, Sinn Féin
Laura McAnea, Animal Welfare Party
Sorcha McAnespy, Independent
Ciaran McClean, Green Party
Daniel McCrossan, SDLP
Grace McDermott, Sinn Féin
Barry McElduff, Sinn Féin
Susan-Anne White, Independent