NI Assembly election: Eight Labour Party members contest poll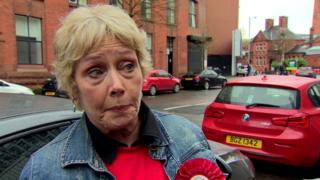 Eight members of the UK Labour Party are standing as candidates for the Northern Ireland Assembly.
The move is despite the fact that Labour's National Executive Committee is still reviewing whether it should fight elections in NI.
The candidates say they will disband their representation committee once the Labour leadership gives local people permission to contest future elections.
But they insist they cannot wait for Labour's official review to conclude.
They have registered a new political party under the name Northern Ireland Representation Committee.
"We've had such a demand since the leadership election campaign last summer our membership has gone up from 350 to 1,800 members and supporters," the party's Kathryn Johnson said.
"We've had such a demand from people in the local constituencies we're standing in, we didn't think we could wait any longer."