NI assembly election: Facebook message over poll deadline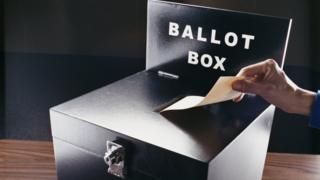 The Electoral Commission has used Facebook to warn Northern Ireland voters they are running out of time to register for 5 May's assembly election.
A reminder was added to the top of every adult Facebook user's newsfeeds on Tuesday, less than one week ahead of the deadline.
Voters must be registered by the deadline of Monday 18 April.
A similar message was sent to Facebook users ahead of the 2015 UK general election.
Anyone who cannot make it to a polling station on 5 May can apply to vote by post or appoint a proxy, but must return an application form by 17:00 BST on Thursday 14 April.
Research by the Electoral Commission last year indicated that one in four people in Northern Ireland wrongly believe that voters can register up until the day of the election.
Ann Watt, head of the commission in Northern Ireland, said: "Working with Facebook provides a unique opportunity for a huge number of people to see this really important message before the deadline.
"After 18 April, the chance to register to vote in the Northern Ireland Assembly election will have passed
"If you aren't registered yet, you should take a few minutes to download and complete an application form from www.aboutmyvote.co.uk."