Conservatives lose control of Elmbridge council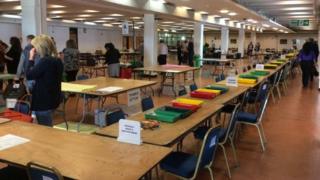 The Conservatives have lost overall control of a Surrey council after Thursday's local elections.
No party has overall control of Elmbridge Borough Council, where votes were not counted until Saturday.
The Conservatives lost 11 seats in the council following boundary changes. Independent numbers were also down by one seat.
The new council is made up of 22 Conservatives, 19 residents association members and seven Liberal Democrats.
The Conservatives retained control of Reigate and Banstead Borough Council, where votes were also counted earlier.
The new council consists of 39 Conservatives, seven residents association members, two Green Party, two Liberal Democrats and one UKIP.
Elmbridge votes were counted Esher Hall at Sandown Park Racecourse, while Reigate and Banstead's count was at Donyngs Leisure Centre, Redhill.
The Conservatives kept control of four Surrey councils declared on Friday.
Results from Mole Valley and Woking were declared on Friday evening, with Tandridge and Runnymede announced earlier in the day.
Labour won a by-election at Guildford Borough Council, with James Walsh gaining a seat in the Stoke ward from the Conservatives.
The Conservatives defeated independent Kevin Hurley as police and crime commissioner for Surrey.
Former Army major and Surrey County Council chairman David Munro took 100,122 votes, including second-preferences.