Teenager becomes Preston's youngest councillor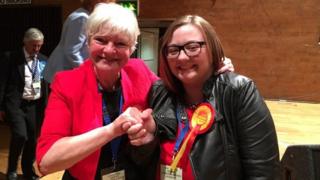 An 18-year-old woman has become Preston's youngest councillor after winning a seat in the local elections.
Newcomer Jade Marie Morgan retained St Matthews Ward for Labour as a successor to Veronica Afrin, who served on the council for 37 years.
Labour have retained control of West Lancashire, gaining a seat from the Conservatives to increase its majority to eight.
The Tories lost two seats, one to Labour, and one to an Independent.
Ms Morgan said: "I just can't thank people enough, it's the greatest opportunity for me.
"I am so shocked I don't even have words for how gratified I feel."
Labour also keep control of Chorley, holding 10 seats, and gained two seats from Independents in Preston.
In Blackburn with Darwen, Labour keep control but the Conservatives have gained two councillors in Meadowhead and Marsh House.
Labour have retained Burnley but have lost two seats.
Liberal Democrats gained three councillors, taking Rosegrove with Lowerhouse and Gannow from Labour and Whittlefield with Ightenhill from the Conservatives.
In Rossendale, Labour gained three seats and remain in control of the council.
The party took a seat from an Independent councillor in Facit and Shawforth and two from the Conservatives in Whitewell and Eden.
In Hyndburn, Labour took St Oswalds ward from the Conservatives and kept control.
Pendle Council remains in no overall control despite the Conservatives gaining three seats, Vivary Bridge and Reedley from Labour, and one of the Craven seats from the Liberal Democrats.
The council consists of 21 Conservative seats, 17 Labour, 10 Lib Dem and one BNP after votes were counted.