Election 2016: South Yorkshire voters face unprecedented polling booth choice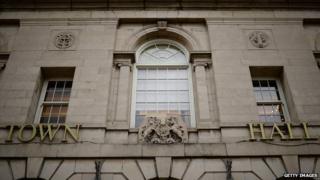 Voters in Rotherham and Sheffield are preparing to go to the polls on Thursday to select entirely new councils for the first time.
Both these two traditional Labour strongholds would normally have used the "thirds" system under which just one of the three councillors representing each ward would be up for election.
Sheffield's switch to an all-out election following recent boundary changes means any swing in political support could lead to much more substantial changes to the make-up of the council.
However, with Labour currently holding 59 of the 84 seats it would take a major upset to see a different party taking the keys to the leader's office.
Yet it is just five years since the Liberal Democrats were so strong they ran the city of Sheffield.
Lib Dem power rapidly declined along with its popular support after national party leader and local MP Nick Clegg became deputy prime minister in the budget-cutting Coalition Government.
In these all-out elections the Greens are making a big push to take what they see as the vacuum created by the demise of the Liberal Democrats. For the first time, the party is putting up candidates for every seat and has high hopes of adding to its existing four seats.
Grooming aftermath
Next door in Rotherham another all-out election is being held - but for completely different reasons.
The government ordered a full election in an attempt to create a fresh start for a council which had been unable to cope with the scandal of hundreds of young girls being groomed, raped and trafficked by criminal gangs in the town.
For the past two years government-appointed commissioners have taken over many of the functions of the council and, despite some powers being handed back, elected councillors will still only control around a third of Rotherham's budget after this election.
At the last election, the grooming controversy helped the UK Independence Party take seats from Rotherham's historically dominant Labour majority. UKIP is now bidding to build on the 12 councillors it has, but it will not be easy as Labour holds 46 of the 63 seats in the council chamber.
Rotherham now intends to stick to full council elections every four years.
Sheffield's electorate will see a gradual return to the "thirds" system with the candidate taking the most votes in each ward serving a full-four year term. Second-placed candidates in each ward will have to put themselves up for re-election in three years with third place serving just two years.
Of the other two South Yorkshire councils, Labour-dominated Barnsley has a third of its council seats up for election but Doncaster switched to a four-year cycle last time around so no elections are being held.