Election 2016: Labour and Tories hold on to councils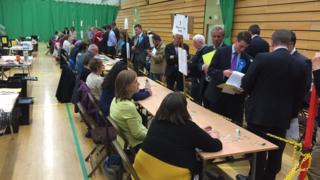 The Conservative Party has held on to Adur and Worthing councils with Labour still in power in Crawley and Hastings.
The Tories lost four seats in Adur while UKIP and Labour each gained two. In Worthing, the Tories gained two while the Liberal Democrats lost two.
Labour had a majority of one in Crawley but doubled it after taking the Southgate ward from the Conservatives.
Crawley council leader Peter Lamb said: "We have real vision and ambition and we have a plan to carry that off."
---
Ben Weisz, BBC Sussex political reporter
A jubilant Labour group have celebrated their remarkable achievement here in Crawley
They've bucked the national trend. Not only retaining their seats but gaining an extra one from the Tories.
This means, for the next two years at least, Labour controls Crawley Borough Council.
---
'Too close to call'
In Hastings, Labour comfortably held control with all seats remaining as they were previously.
Amber Rudd, who is the Conservative MP for Hastings and Rye, said Labour was "run very close" in a couple of the seats.
She said she was "encouraged" by the result.
However, council leader and Labour councillor Peter Chowney said: "[The result] was better than we were expecting.
"It was a hard one to call because of what was happening nationally and the attacks on the Labour Party leadership."