Election 2016: Tories tighten grip on Tunbridge Wells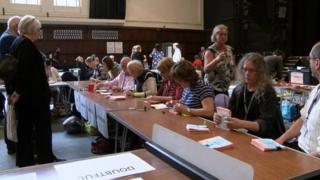 The Conservative Party has tightened its grip on Tunbridge Wells council, gaining one seat in the elections.
There remains no overall control at Maidstone council, with the Tories losing two seats and UKIP gaining one.
But the Liberal Democrats managed to win two more seats there, putting the party only one seat behind the Tories.
Maidstone Liberal Democrat leader Fran Wilson said: "It proves what Liberal Democrats can do when they remember the people they are here to serve."
The Tory gain in Tunbridge Wells bucked expected trends.
Councillor David Jukes, leader of the Conservative Group on the council said: "It's unusual for a leading party to gain seats during a mid-term election when you have a ruling party in government."
Elsewhere in England, elections took place for more than 120 councils.
Votes have also been cast for the London Assembly and to elect mayors in Bristol, Liverpool, London and Salford.