Labour holds majority on Hartlepool Council amid UKIP gains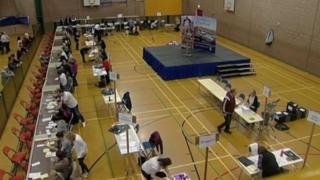 Labour has retained its majority on Hartlepool Council, but lost a seat to UKIP.
UKIP gained three seats, bringing its total on the council to five.
Before the result was announced, Nigel Farage said on Twitter: "Strong performances for UKIP in the North East, hearing we could breakthrough in Hartlepool."
People on Teesside also cast votes for a police and crime commissioner.
Counting for this takes place on Friday, with the result announced in the afternoon.
Steve Turner, UKIP councillor on neighbouring Redcar and Cleveland Council, said he was very pleased with the Hartlepool result.
He said: "We also came exceptionally close in other wards.
"We may not have picked up seats in other parts of the North East but have built solid platforms to go forward on."