Election 2016: Labour retains control in heartland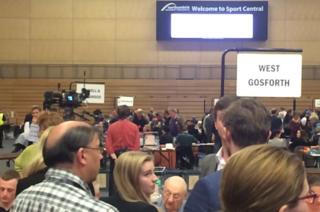 Labour has retained control of Sunderland, Newcastle, Gateshead and South Tyneside councils.
The area is traditionally a Labour heartland, and the party gained a seat in Sunderland, and two in Newcastle. In South Tyneside it won all seats, including the only Conservative one.
There were mixed fortunes for the Lib Dems, with a gain in Sunderland and Gateshead but two losses in Newcastle.
Although it did not win any seats, UKIP polled well.
On North Tyneside, residents voted to keep rather than scrap the system of a directly elected mayor, by 32,546 to 23,730 votes.
'Real democracy'
The current mayor, Norma Redfearn (Labour), who was elected for a four-year term in May 2013, said: "Before I was elected, I promised residents I would hold a referendum to let them decide on how their council would be run in the future.
"I am pleased to say that this result is the people's decision, this is real democracy."
Referring to the council elections, Chi Onwurah, Labour MP for Newcastle, said: "People are realising that a Labour council is protecting them from the impact on services of years of disproportionate funding."
Lib Dem councillor Gregg Stone described the results for his party as "a mixed bag".
He said: "We are clearly heartened by the Sunderland result, and also hopeful of good news from Gateshead."
Conservative Lord Callanan described the South Tyneside result as "disappointing" and said: "It would have been nice to make gains, but we generally held our own."
Douglas Carswell, UKIP's sole MP, tweeted: "Early signs are very encouraging for #UKIP 2020 strategy".
In North Tyneside Council's elections, Labour gained Cullercoats and Tynemouth from the Conservatives while the Liberal Democrats lost a seat to an Independent.
Elections have also taken place for Durham and Northumbria forces' PCCs, and North Tyneside Council held a referendum on whether it should continue to have an elected mayor.