Labour candidate wins Cheshire PCC from Conservatives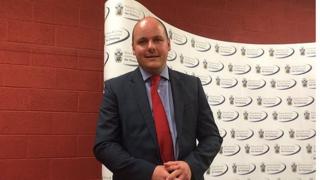 Labour's David Keane has ousted the Conservative candidate in Cheshire to become the new Police and Crime Commissioner.
Mr Keane was elected on a count of second preference votes and polled 84,601 votes when first and second preferences were added.
His Conservative rival John Dwyer, was the first Cheshire PCC elected in 2012, and polled 81,652 votes.
Overall turnout in the election was 23% and Mr Keane said he was "honoured".
He said he had pledged to "deliver real neighbourhood policing", to get officers "back on the streets fighting crime" and to "deliver a police service you can be proud of".
BBC News App users: tap here to see the results.
Results after first count
Cheshire
Candidate
Party
John Dwyer
Conservative
69,322
David Keane
Labour
72,947
Neil Lewis
Liberal Democrat
18,530
Jonathan Starkey
UKIP
21,991
More information is available on the Choose my PCC website.
Results after second count
Cheshire
Candidate
Party
David Keane
Labour
84,601
John Dwyer
Conservative
81,652