Lancashire Police and Crime Commissioner Clive Grunshaw re-elected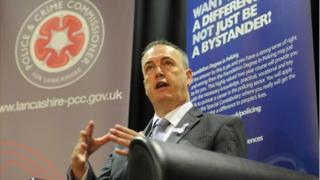 Labour's Clive Grunshaw has been re-elected Police and Crime Commissioner for Lancashire.
Mr Grunshaw, who did not secure more than 50% of the first round vote, was elected after counting of second preference votes.
He polled 152,714 votes compared to his Conservative rival Andrew Pratt who took 118,941.
Mr Grunshaw described the post as a "a difficult job" which "wasn't going to get any easier."
"The first term has been difficult because of the cuts and establishing the job," he said.
In the first round of votes, Mr Grunshaw received 132,261 votes and Mr Pratt 96,746.
Voter turnout was 29%.
Candidates are listed alphabetically by surname. BBC News App users: tap here to see the results.
Results after the first round of votes
Lancashire Constabulary
Candidate
Party
James Barker
UKIP
49,987
Clive Grunshaw
Labour
132,261
Andrew Pratt
Conservative
96,746
Graham Roach
Liberal Democrat
23,164
Results after the second round of votes
Lancashire Constabulary
Candidate
Party
Clive Grunshaw
Labour
152,714
Andrew Pratt
Conservative
118,941
More information is available on the Choose my PCC website.