Conservative Roger Hirst elected Essex Police and Crime Commissioner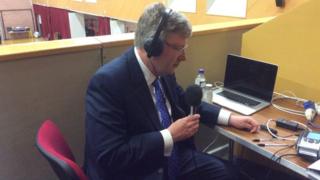 The new police and crime commissioner for Essex says the first thing he will look at is "modernisation and getting police out on patrol".
Conservative Roger Hirst won the election with a total of 135,948 votes, once second-preference voting had been added, beating UKIP's Bob Spink.
Three other candidates - one Labour, one Lib Dem and one Independent - were eliminated in the first round.
At 26%, the turnout almost doubled from the last election in 2012.
Candidates are listed alphabetically by surname. BBC News App users: tap here to see the results.
Essex Police: First round votes
Candidate
Party
Number of votes
Roger Hirst
Conservative
110,858
Bob Spink
UKIP
80,832
Chris Vince
Labour
65,325
Martin Terry
Independent
43,128
Kevin McNamara
Liberal Democrat
30,804
More information is available on the Choose my PCC website.