Philip Seccombe new Warwickshire PCC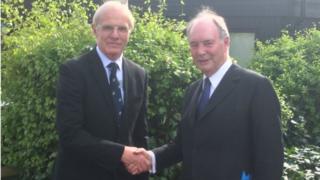 Conservative Philip Seccombe is Warwickshire's new police and crime commissioner.
He secured a total of 43,208 votes, with Labour candidate Julie Jackson coming second with 35,108.
Mr Seccombe, who is Ettington Ward councillor on Stratford District Council, will begin his new job on 12 May.
He replaces Ron Ball, who announced last year he would not stand for re-election.
Congratulating his successor, Mr Ball said: "I have no doubt that he will find the job as rewarding and enjoyable as I have and I wish him the very best for the next four years."
The turnout across Warwickshire was 26.73%, with 111,900 total votes cast.
Candidates are listed alphabetically by surname. BBC News App users: tap here to see the results.
Warwickshire Constabulary
Candidate
Party
Results
Julie Anne Jackson
Labour
35,108
Philip Stanley Seccombe
Conservative
43,208
Results after the first count
Warwickshire Constabulary
Candidate
Party
Results
Nicola Siân Davies
Liberal Democrat
11,509
Rob Harris
UKIP
14,553
Julie Anne Jackson
Labour
27,725
Philip Stanley Seccombe
Conservative
33,895
Ben Twomey
Independent
9,076
David James Whitehouse
Independent
11,983
More information is available on the Choose my PCC website.