Katy Bourne wins second term as Sussex PCC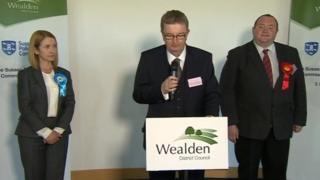 Conservative Katy Bourne has been re-elected police and crime commissioner for Sussex.
Ms Bourne, who became Sussex's first PCC in 2012, was declared winner after the vote went to a second count.
Three candidates were eliminated in the first count, leaving only Ms Bourne and Labour's Michael Jones.
In the first count, Ms Bourne had 114,570 votes and Mr Jones had 61,017. The second count brought their totals to 139,335 and 86,392 respectively.
She said: "I'm absolutely honoured and very privileged to be elected."
She said she needed to "find extra savings because budgets are still reducing" and "to invest in frontline policing because I know that is really important to people in Sussex".
---
What does a PCC do?
They set out policing priorities
They have the power to appoint and fire the chief constable
They hold forces to account but crucially don't run them
---
Voter turnout was 22.5% compared with 15.3% in 2012.
The three eliminated in the first count were Green Party candidate James Doyle, UKIP's Patrick Lowe and James Walsh from the Liberal Democrats.
Results listed alphabetically by surname are as follows. BBC News App users: tap here to see the results.
Sussex PCC election: First Count
Candidate
Party
Result
Katy Bourne
Conservative
114,570
James Doyle
Green Party
26,038
Michael Jones
Labour
61,017
Patrick Lowe
UKIP
43,075
James Walsh
Liberal Democrat
29,550
Sussex PCC election: Second Count
Candidate
Party
Result
Total for both counts
Katy Bourne
Conservative
24,765
139,335
Michael Jones
Labour
25,375
86,392