Julia Mulligan re-elected North Yorkshire Police and Crime Commissioner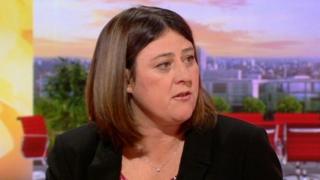 Conservative Julia Mulligan has been re-elected Police and Crime Commissioner for North Yorkshire.
She took 40.1% of the first preference votes - falling short of the requisite 50% - but secured re-election on second preference votes.
Ms Mulligan ultimately received 65,018 votes while Labour candidate Steve Howley polled 44,759 votes.
The total turn out was 135,642 - 22.47% of the electorate which is up from 13.3% in 2012.
Results after the second round of votes
North Yorkshire: Second round votes
Candidate
Party
Number of votes
Stephen Howley
Labour
44,759
Julia Mulligan
Conservative
65,018
Results after the first round of votes
North Yorkshire
Candidate
Party
Number of votes
James Blanchard
Liberal Democrat
13856
Stephen Howley
Labour
34351
Julia Mulligan
Conservative
53078
Mike Pannett
Independent
30984
Candidates are listed alphabetically by surname. BBC News App users: tap here to see the results.
More information is available on the Choose my PCC website.